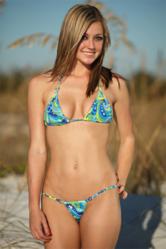 We are super excited about these fabulous new bikinis
Los Angeles, California (PRWEB) February 27, 2013
If you are looking for that perfect Brazilian bikini or Thong Bikini for Spring Break 2013 and for Summer 2013, one that is blend super sexy, bold and provocative yet affordable then look no further! Berrydog has just released their new 2013 swimwear collection and it is sexier and skimpier than ever. Those looking to impress at the pool and beyond will find an array of styles and prints, with over 100 new bikinis and accessories being added to the product line this season. When it comes to having fun and looking sexy, Berrydog takes first prize and judging by the fast pace that customers are snapping up Berrydog Bikinis, consumers couldn't agree more!
The new 2013 collection was designed exclusively by Sierra Shine. Sierra, an exotic dancer / stripper has been working as a Co-designer for the past five years. Borrowing from her Brazilian heritage and experience working as a stripper / adult entertainer, Sierra's design's are unique and have helped Berrydog Swimwear differentiate itself from other swimwear designers. "We are super excited about these fabulous new bikinis," explains Sierra, "They are hot and sexy, and they look amazing. If you've got it then flaunt it and we have all you need in order to look sexy on the beach, this summer. The bikinis I design are cut to be sexy and provocative yet sophisticated," said Sierra. "My Brazilian style bikinis as well as thong bikinis are designed for bold woman who want to make a statement and be recognized."
This season's collection includes a print called "Carnival" which was inspired by the colorful beach lifestyle of Sierra's homeland Brazil. Animal prints are also a favorite of Sierra's, and Berrydog is famous for having more animal print swimwear than any of the other leading swimsuit designers. Expanding on the wide assortment of animal-print bikinis they already offer, Berrydog added a new animal-print bikini called the Pussy Cat Deco which is a wondrous blend of different colors.
In addition to all the new prints offered, the 2013 line features several new cuts like the new "Magro" (skinny in Portuguese language) top and Berrydog's redesigned Brazilian, Thong and G-string bikini bottoms. Berrydog, famous for their expansive sheer bikini and see-through swimwear line, has added even more. 30 new sheer, or see-through bikinis comprise the 2013 sheer swimwear collection for 2013.
Shipments of Berrydog 2013 line of swimwear are pacing 25% above last year which was another record year for the renowned swimwear brand. "I am very happy that the 2013 line has been so well received by the press, our celebrity clients but most importantly our loyal Berrydog customers," said Sierra. " You don't have to be a celebrity like Kim Kardashian, Megan Fox, Lady Gaga, Jennifer Lawrence or Anne Hathaway to be able to afford or wear a designer Brazilian Bikini or Thong Bikinis, I encourage all woman to visit us online or at one of our retailers to see our new lines. Bikinis are getting smaller due to the style influence of countries like Brazil and because of us at Berrydog where we have been at the cutting edge of the minimalist style of swimwear for 15 years. I was amazed when I opened up the 2013 Sports Illustrated Swimsuit issue and saw that almost every bikini featured in the magazine was either a Brazilian Bikini, Sheer Bikini or Thong Bikini designed by some well known brands. I had to laugh at them because we've been making those for the past 15 years and these well known designer brands are just now getting it," said Sierra.
You can visit Berrydog online at http://www.berrydog.com to see the new 2013 line and also to take advantage of the free shipping offer.