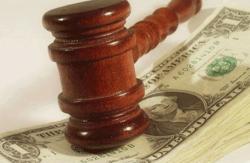 Environmental harm cases can stem from any number of incidents causing harm to individual property or land
Phoenix, Arizona (PRWEB) February 26, 2013
AnyLawsuits.com, leading lawsuit funding solution provider, now offers environmental harm settlement loans to those seeking settlements for environmental property damage and contamination.
Environmental harm cases can stem from any number of incidents causing harm to individual property or land. In large cases, the government may step in and manage the case for the individuals affected by the contamination. However, if the damage occurred and is not already covered by the government, individuals can file their own lawsuits to seek settlements for their own property. These cases can take a long time to prosecute, and take a lot of resources to bring to completion, which means individuals don't have the money they need to get their property back on its feet.
Now, however, environmental harm settlements are available to allow property owners the ability to receive damages for any harm - permanent or otherwise - that happened on their land. With these settlements, plaintiffs can work to fix the damage done to their property in a reasonable amount of time.
While awaiting mediation or courtroom decisions, borrowers can continue living their normal lives with the help of lawsuit loans from AnyLawsuits.com. With non-recourse cash advances, plaintiffs are able to support themselves and their families and pay the bills without having to settle for a lower payment amount in a shorter amount of time. In addition, AnyLawsuits.com will not collect any payment if the plaintiff does not win their case, meaning borrowers can rest assured that the best effort is being made to win their case and give them the funds they deserve.
In addition to funding environmental harm lawsuit settlements, AnyLawsuits.com also funds breach of contract suits, wrongful termination suits, and intellectual property cases.
Finally, any victim of environmental contamination can receive the funds they need to rehabilitate their property while pursuing and winning their case.
About AnyLawsuits.com
AnyLawsuits.com is a leading provider of non-recourse cash advances for plaintiffs in the United States. Lawsuit cash and settlement loans and provided while the case is in progress, so plaintiffs don't feel pressure to accept low settlement offers. Contact AnyLawsuits for a fair value of any case.