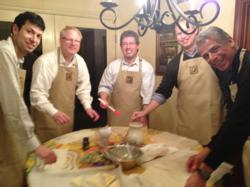 San Diego, CA. (PRWEB) February 26, 2013
A venture capitalist was recently so inspired by Karin's Eastham's book, Cook the Part, she wanted to team up 10 visiting colleagues for a cooking event. Eastham referred the group to Lajollacooks4u a hands-on culinary cooking company – that used the book as a guide to host a teambuilding event for the VC's while they were in San Diego for meetings
Lajollacooks4u proved to be the ideal venue with Jodi Abel, Owner and Chef of Lajollacooks4u, leading the participants through a Greek menu selected from Karin's book by the venture capitalist.
"Karin Eastham referred me to Jodi at Lajollacooks4u who has been hosting team-building cooking events for several years and has a wonderful reputation for her warm hospitality, enthusiasm and delicious food," the VC said.
The Greek menu was customized to meet the dietary needs of the guests. The group broke into two teams and was guided by Chefs Jodi & Jenn Felmly. A gourmet olive oil tasting competition kicked off the event, followed by both teams cooking a fabulous Greek feast of Salmon Gyros with Tzatziki Sauce, homemade Pita Bread and Greek Salad. The teams took great pride in hand-rolling their pitas and baking them on pizza stones. Their delicious appetizer was followed by a magnificent presentation of Grilled Lamb Chops, Spanakopita Triangles, Roasted Greek Potatoes and Asparagus Bundles. Mini servings of Greek Yogurt with Caramelized Walnuts, Dates and Honey were served for dessert and Chocolate Melting Cakes concluded the meal.
"The evening went beyond my expectations; it was fun, educational and extremely well executed by Jodi and her professional team," the VC complimented. Each participant was presented with their own edition of Cook the Part and a recipe and menu booklet provided by Lajollacooks4u.
Cook the Part (Crosswalk Press 2011) is much more than a collection of recipes; it's a fabulous guide to entertaining. Each of the eight themed menus in the book is divided into parts. Guests work in teams to cook a part of a fabulous four-course meal. Cook the Part helps you organize and create a memorable evening of hands-on cooking while enjoying the camaraderie of your guests for a phenomenal gourmet dinner. Cook the Part allows anyone, even the inexperienced, to host dinner parties that will leave guests talking for months. With this guide, even the most sophisticated dishes are broken down into manageable preparation steps, resulting in a fabulous dinner to be enjoyed with your friends, family, co-workers or gourmet group. Cook the Part provides you with a guide for a great teambuilding activity in the comfort of your own kitchen. Guests leave empowered with new recipes and cooking techniques to show off at home. The experience is fun, interactive and delicious.
Lajollacooks4u was founded in 2008 and modeled after a European concept. Chef Jodi welcomes guests into her lovely Italian villa for a very special hands-on culinary adventure. Nestled atop Mt Soledad, La Jolla, CA, with stunning views of the Pacific Ocean, guests are shown how to prepare their culinary delights and then, under the direction of Chef Jodi, begin their own preparation. Lajollacooks4u specializes in team-building activities, Farmer Market & Foodie Tours, special occasions and culinary weekends. Lajollacooks4u has enjoyed record growth since its inception and has been ranked a top attraction in La Jolla on the world's largest travel review site, Trip Advisor. For more information, contact Jodi Abel at jodi(at)lajollacooks4u(dot)com or phone - 858-752-4980.
-30-