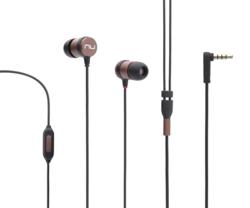 "We've improved the design of the headphones along with its construction to give our customers an even better sounding pair of stylish buds." said Jason Lim, NuForce CEO.
MILPITAS, Calif. (PRWEB) February 27, 2013
NuForce, Inc., a leader in professional and consumer audio gear, is pleased to announce its new and improved NE-700M and NE-700X earphones. While the NE-700* earphones have received numerous awards, in order to remain in the forefront of performance, NuForce has enhanced these already outstanding earphones in several ways.
"We set out to improve our NE-700 earphones while keeping them at a price point the average consumer can well afford," said Jason Lim, CEO of NuForce. "We've done some serious work on the earphone's design in order to provide our customers with an even better pair of stylish buds."
The NE-700 in-ear earphones feature a redesigned microphone and enhanced cable design for clearer sound. The NE-700's wide range drivers are set in machined-aluminum chassis in order to minimize vibration and resonance. The drivers' titanium-coating delivers an exceptionally clear, extended bass and distortion free imaging. The earphones include a hands-free microphone and controls for answering calls and rewind/fast forwarding tracks.
Product Specs:

Machines aluminum chassis
Driver & Size: Titanium coated 8mm drivers
Impedance: 16 Ohms
Frequency Response: 20 to 20kHz
Max. Input Power: 10mW
Sensitivity: 105dB+/-3dB
Connector: 3.5mm 3 pin plug
Weight (without packing): 15.4 grams
Cord Length: 54 inches
Available in Smoky Bronze and Aqua Silver
Pricing and Availability
The NuForce NE-700X is priced at $65 and the NuForce NE-700M at $75. Both earphones are available now from NuForce.com and NuForce resellers.
About NuForce
Based in Milpitas, California, NuForce first gained visibility for its patented audiophile-grade Class-D power amplifiers, earning numerous awards from audio publications in the U.S. and Japan. Building upon its reputation as a company that developed state-of-the-art audio products, NuForce worked diligently to expand its product line with digital-to-analog converters, in-ear and over-the-ear headphones, speakers and subwoofers, cables, additional home and headphone amplifiers, and other high-end audio accessories. Simple elegant with superior sound quality in every product is the signature of NuForce brand. Today, NuForce is sold internationally and remains firmly committed to being a high-performance consumer electronics company adhering to stringent quality standards, ensuring integrity and value in every NuForce product.
Media Contacts:
Jessica Darrican
Max Borges Agency
305-576-1171 x.16
305-299-3449
JessicaDarrican(at)maxborgesagency(dot)com
Anna Zhao
NuForce, Inc
Phone: +1-408-890-6840