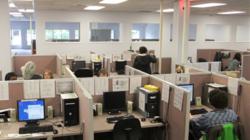 We were looking for 'plug and play' and we found it at TechDwellers
Seattle, Washington (PRWEB) February 27, 2013
Sound Telecom, a leading nationwide provider of 24 hour Telephone Answering, Call Center and Cloud-based Communication Services and three-time winner of the Inc. 5000 Award announced today it is moving its corporate headquarters to TechDwellers, a fully supported space designed to enhance the growth of developing companies.
Relocating a corporate office is never easy. Sound Telecom had stringent criteria in its yearlong search to lease or purchase office space in Seattle. "It was important for us to remain in Seattle", states Cheryl LaBaw who oversees facility management for the company. "We have a passion for the Seattle business community and economic development in this area. We were looking for a flexible, scalable working environment to support the growth we are expecting over the next several years. It was essential that our corporate staff have an open, collaborative workspace with the same look and feel of our call centers. We wanted a facility that appealed to our employees, customers and vendors and also had quick airport access and an entrepreneurial, innovative growth oriented environment." "We are continually focused on making Sound Telecom a great place for our employees to work, added Brian Gabriel, Sound's chief operations officer, "We wanted a location that provided distinguishable benefits for our employees including an exceptional work environment, an employee fun room, a reasonable commute, bus and bike route access, and easy access, no-charge parking."
After an intense, year long search for a corporate 'home', it may seem a bit unusual that an established 27 year old company would find the perfect fit in a facility designed for start-ups and emergent tech companies. As it turned out, it was not peculiar at all.
TechDwellers features highly flexible and customizable private office suites from 300 to 10,000 square feet plus co-working spaces in a creatively charged building. It is located on the 5th floor of Sixty 1 Hundred Building at 6100 Fourth Avenue in the Georgetown area of Seattle. Strategically located and easily accessible from I-5, highways 99 and 509, TechDwellers offers exceptional transit access (Metro bus 23, 60, 123, 124, 131, 154 & 173) and is only ten minutes from downtown Seattle.
Sound Telecom selected the TechDwellers location due to its scalability for anticipated rapid growth. "We expect to double the size of the company in the next 2 to 3 years", said Michael LaBaw, the company's founder and president. "In addition to housing our corporate office, we hope to start building call center seats in Seattle as we do in our 18000 square foot call center facility in Spokane and our Bilingual Service center in Denver, Colorado. We were looking for 'plug and play' and we found it at TechDwellers. The facility has all the amenities and support we need to grow including; 24/7 access, shared board and conference rooms, event spaces, and the opportunity to work in a community of like-minded growth companies. We found the open-space, glass-walled, collaborative ambiance we were looking for and the great views of Seattle and Mt. Rainier are icing on the cake. This is a huge upgrade for us and we are very excited about it."
"We are cost-conscious, budget minded and embrace the shared-service model." adds Sydney Morgan Diamond, Sound Telecom's chief financial officer. "That coupled with the flexible lease terms made the financial aspects of the decision very straight forward."
"The convenient location, outstanding neighborhood amenities, front desk concierge greeting team, free conference rooms, free parking, great on-site dining options such as Skillet Street food and the new Food Truck Pod were all important factors that brought Sound Telecom to our Sixty 1 Hundred Building in Georgetown." said Larry Benaroya. "We are delighted to welcome them."
About Sound Telecom
Sound Telecom is a leading provider of 24 hour Telephone Answering, Call Center and Cloud-based Communication Services, headquartered in Seattle professionally serving thousands of customers throughout the United States and Canada with USA based agents. The twenty-six year old company has offices in Seattle and Spokane, Washington and Denver, Colorado. For more information, please visit http://www.sound-tele.com
About The Benaroya Company
Established in 1956, The Benaroya Company is a leading full-service commercial real estate company active in acquiring, developing and managing superior data center, office, high-tech, medical, retail and industrial properties in prime locations throughout the Pacific Northwest. For more information, please visit http://www.benaroya.com.
Contact Information
Sound Telecom
Michael L. LaBaw, President
800-577-1550
http://www.sound-tele.com
The Benaroya Company
Lisa Goodman, Director of Marketing
425-440-6715
http://www.benaroya.com