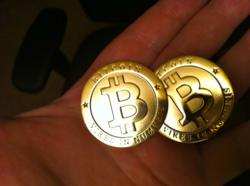 Never before in history has the individual been able to live on a strict alternative portfolio
Cheyenne, Wyoming (PRWEB) February 26, 2013
Gold Silver Bitcoin answers the need for bitcoin holders to be able to move their digital gold into the physical realm of precious metals. This represents a huge move forward to the followers of bitcoin as it represents a separation from the old guard of hard asset enthusiasts. Gold Silver & Bitcoin represents the future of the bullion industry.
With years of experience in precious metals, the founders of Gold Silver Bitcoin wanted to offer their customers something new and exciting. Bitcoin seemed to be the answer.
"Never before in history has the individual been able to live on a strict alternative portfolio. Precious metals have been around forever. As Ben Bernanke eruditely (for him) notes, gold is tradition. But these precious metals are bulkier than fiat, and people like convenience. Enter Bitcoin," states Justin Oh, co-owner of Gold Silver Bitcoin.
"The term bond vigilante became popular in the 70s with people like George Soros who would short entire countries by the nineties. 30 years later the old bond vigilantes, as Jeff Berwick of Dollar Vigilante notes, teamed up with Keynesians."
Jeff goes on: "Therefore, the only chance that the individual investor and average man on the street has to protect himself from this system which is blatantly set-up against him is to sell his dollars in favor of other assets; most often traditional money: gold and silver. And thus was born the term, Dollar Vigilante."
It is very clear that, alongside gold and silver,platinum and palladium, Bitcoin follows in this "Dollar Vigilante" pace-setting.
To learn more about what Gold, Silver and Bitcoin have in common, come join the future with Gold Silver Bitcoin.