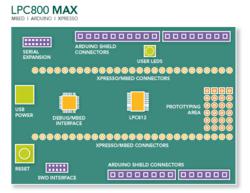 The LPC800-MAX development board brings together the best of three worlds: mbed, LPCXpresso and Arduino
Nuremberg, Germany and San Jose, CA (PRWEB) February 26, 2013
NXP Semiconductors (NASDAQ: NXPI) today announced that it is delivering evaluation samples of the LPC810 and LPC812 microcontrollers via major distributors. The LPC800 series microcontrollers build upon NXP's strong ARM® Cortex™-M0 portfolio, which currently exceeds 80 different available parts, and are the first products in NXP's growing Cortex-M0+ roadmap. In addition, NXP announced the LPC800-MAX – an mbed/Arduino development board based on the LPC812 – which will be released in April 2013.
LPCXpresso development boards featuring the NXP LPC812, based on the Cortex-M0+ processor, will be featured at major distributor booths at Embedded World 2013 in Nuremberg, Germany this week, along with other NXP Cortex-M development boards.
"The LPC800 provides a simple yet compelling entry point for our LPC Go microcontroller family, with innovative peripherals such as the flexible switch matrix and a very attractive price. The positive customer response we've received so far has been overwhelming," said Mario Klein, regional marketing director for EMEA, microcontroller business line, NXP Semiconductors. "Together with our LPC1100 series based on the Cortex-M0, NXP's portfolio of entry-level microcontrollers is unmatched in terms of the track record, breadth and variety of options they offer to our customers."
Best of Three Worlds: LPC800-MAX Development Board
NXP is also working with key partners to develop LPC800-MAX, a development board which combines mbed, LPCXpresso and Arduino connectivity, allowing users to choose and work with their favorite elements from each environment. The breakthrough interoperability of the LPC800-MAX development board is made possible thanks to the unique flexible switch matrix feature introduced in the LPC800 family of microcontrollers, which allows users to configure nearly any pin for any available function. Further, with the new mbed USB onboard interface, users can choose if they want to use cloud-based mbed tools for development, or if they would rather use an off-line tool chain, such as the LPCXpresso IDE, for development and debugging. The board will be available in April for a suggested retail price of € 16.00.
"The LPC800-MAX development board from NXP will open a new world of possibilities, as it allows users to pick the parts they like from the mbed, LPCXpresso as well as the Arduino eco-systems, and use them together or however they choose," said Henrik Flodell, tools and embedded ecosystem manager, NXP Semiconductors. "Whether you're an enthusiast, a maker with a creative project idea, or a professional developer working on a commercial product design, the LPC800-MAX board provides flexibility and access to best-in-class tools, as well as strong community support around the world."
Key features include the LPC812 microcontroller in a TSSOP20 package; on-board debug via the mbed USB onboard interface, supporting USB Drag and Drop programming, CMSIS-DAP and USB Serial on an LPC11U35; Arduino-compatible connectors on the top of the board; and standard mbed and LPCXpresso connectors on the bottom of the board. The free LPCXpresso IDE will support programming and debugging the board using the on-board CMSIS-DAP interface, with no additional hardware debugger required.
Pricing
Unit pricing for the LPC810 starts at € 0.29 at 10k quantities. NXP LPC800 series microcontrollers are available in SO20, TSSOP20, TSSOP16, and DIP8 packages.
Links

http://www.lpcware.com/lpc800-max
About NXP Semiconductors
NXP Semiconductors N.V. (NASDAQ: NXPI) provides High Performance Mixed Signal and Standard Product solutions that leverage its leading RF, Analog, Power Management, Interface, Security and Digital Processing expertise. These innovations are used in a wide range of automotive, identification, wireless infrastructure, lighting, industrial, mobile, consumer and computing applications. A global semiconductor company with operations in more than 25 countries, NXP posted unaudited revenue of $4.36 billion in 2012. Additional information can be found by visiting http://www.nxp.com.
Forward-looking Statements
This document includes forward-looking statements which include statements regarding NXP's business strategy, financial condition, results of operations and market data, as well as other statements that are not historical facts. By their nature, forward-looking statements are subject to numerous factors, risks and uncertainties that could cause actual outcomes and results to be materially different from those projected. Readers are cautioned not to place undue reliance on these forward-looking statements. Except for any ongoing obligation to disclose material information as required by the United States federal securities laws, NXP does not have any intention or obligation to publicly update or revise any forward-looking statements after NXP distributes this document, whether to reflect any future events or circumstances or otherwise. For a discussion of potential risks and uncertainties, please refer to the risk factors listed in NXP's SEC filings. Copies of NXP's SEC filings are available from the SEC website, http://www.sec.gov.