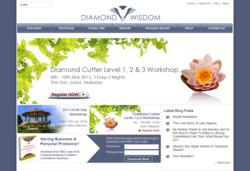 I can now buy Diamond Cutter books online with just a few clicks and with my credit card. It is so much more convenience and time-saving for me.
Singapore (PRWEB) February 28, 2013
Diamond Wisdom Pte Ltd launched its first Diamond Cutter online book store in Singapore, and most Southeast Asia.
Diamond Wisdom is authorized by Diamond Cutter Institute in United States of America to run Diamond Cutter workshop, public talk and retreats in Singapore.
On top of that, they are also one of the largest company that sells, The Diamond Cutter book, one of the best-selling book in the business section in the book store.
The Diamond Cutter is a true story that was written by Geshe Michael Roach as he helped started Andin Diamond Corporation and grow the business from a US$50,000 loan to US$200 million in revenues in 2009, and sold to super investor, Warren Buffett.
In order to serve the growing demands of many people wanting to buy The Diamond Book by Geshe Michael, followed by many other titles, including Karmic Management, The Garden: A Parable, The Tibetan Book of Yoga, How Yoga Works, The Essential Yoga Sutra, and many more… it's only natural for Diamond Wisdom to start an online book store.
"I can now buy books online with just a few clicks with my credit card. And having the physical book shipped to my house is so much more convenience and time-saving for me." As commented by Sunny Lim, one of Geshe Michael's student in Singapore.
Diamond Wisdom Online Book Store is now using PayPal as the main payment merchant, as it is the most reliable and safe for our customers.
Kelly Tan, General Manager, said, "It's a big step for us, and we are glad that we can now expand our business into the Asia region with this online book store. The logistic and customer service support are all ready to fit the online book orders."
To start ordering The Diamond Cutter Book through our online book store, please visit http://www.DiamondWisdom.sg today!
Please visit this link, http://youtu.be/8JBIUZonOtM, to preview our Video Press Release.
Diamond Wisdom Pte Ltd is to organise business seminar, business retreats and follow-up coaching sessions by Geshe Michael Roach in Singapore. We are especially committed to being the South East Asian organiser and hub for the 12 Diamond Cutter Institute retreats Geshe Michael will teach around the world over the next six years. Geshe Michael Roach wrote two best-selling business books, The Diamond Cutter - The Buddha On Managing Your Business And Your Life and Karmic Management - What Goes Around Comes Around In Your Business and Your Life.