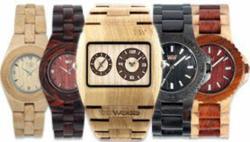 Bournemouth, England (PRWEB) February 26, 2013
Brand Outreach, the media specialists, recently announced a partnership with WeWood watches who have launched four new stylish eco-friendly watches exclusively for online customers. The new designs will be top of the list of must-haves for any eco-fashion conscious man or woman this spring, recently featured in Vogue magazine and the Evening Standard.
Joe Bragg, spokesperson for Brand Outreach, explained, "These incredible watches are fashionable, kind to the environment, stunningly produced and affordable. It's a perfect combination that has guaranteed they attract a lot of attention around the world. We're making sure that WeWood UK gets as much out of this publicity as their American counterparts, so this trend can leap wholesale across the pond and Britons can start saving the environment with their consumer choices."
WeWood Voyage Black & Beige are now available online and have already been spotted adorning the wrist of Hollywood A-Lister Colin Firth. With more of a retro feel the Metis Beige & Brown has recently been added for those who like more overtly wooden watches.
WeWood timepieces are lightweight and hand-crafted, made from 100 % natural wood. Each timepiece is made of 100% recycled materials. Unisex and attractive to the eco-conscious shopper, the watches are available in 22 stylish designs and all retail for £100 or under, a fraction of the cost of gold or silver watches.
WeWood are not only an affordable luxury for every day, but their watches are a timepiece that will make a significant difference to the future of the planet's ecosystems. For every timepiece purchased, WeWood plants one tree to help ensure the health and survival of the natural world. Last year alone WeWood teamed up with tree planting partner, American Forests, resulting in thousands of trees planted so far. This will continue throughout 2013 with every watch purchased.
A spokesperson for WeWood UK explained, "These watches are really set to explode within high-street fashion this year, so everyone should be looking to get on the cutting edge of the trend with these online exclusives."
About WeWood UK: WeWood UK are distributors of fine wooden watches. WeWood watches are hypoallergenic and completely free of all toxins, nickel and chemicals. Their watches are 100% natural made out of recycled wood, and for every watch we sell we plant a new tree. For more information, please visit: http://www.we-wood.co.uk/.
About Brand Outreach: Brand Outreach is a brand management business that boasts clients across the globe. Brand Outreach specializes in promoting and defending online reputations. They use traditional media channels as well as Social Media to grow brands and interact with customers target markets.