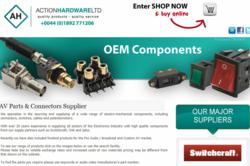 Action Hardware received positive feedback from existing clients during the previous redesign so the new design is expected to enhance further their clients experience whilst buying online
(PRWEB) February 26, 2013
Think Cloud Studio, a leading UK company providing all types of web services including design, branding, digital communications and marketing, have announced the launch of their latest site for Action Hardware. The design company, have taken over full project management from AM Communications. Think Cloud Studio ranks high thanks to their reputation as one of the best web design companies in the UK.
Managing Director of Think Cloud Studio, Andrew Maynes explained how they won the new website design given by Action Hardware:
"Our brief was that the new website had to consider the audio video market place and how purchasing online is carried out by manufacturers looking for pro av parts & components. Consideration included simple in design and easy to navigate whilst providing all the information and details of the AV Cables & Parts Supplied. Technical information and quantities of parts supplied.
Customer service is focal point for Action Hardware so it is only right that the buying AV component parts online is made simple, often bulk purchasing online is overlooked, so this attention to detail was important, if not critical. In addition to creating a brand new website design, Think Cloud Stdio set to work on a brand refresh including a new logo design. The launch of the new brand design and new website will be in early March 2013. Action Hardware received positive feedback from existing clients during the previous redesign so the new design is expected to enhance further their clients experience whilst buying online.
"We are sure this will generate a positive experience and improve their already high customer service standards."
This latest new website design is just one in a long line of projects that have been recently completed by Think Cloud Studio and their design to date is helping to establish them as a top British internet marketing and web design agency. To date the company have created numerous websites for a diverse range of businesses including pubs, hotels, beauty salons, manufacturers, retailers and interior design companies. In addition they've carried out comprehensive rebranding designs and marketing campaigns for a number of clients which have proven results to show.
Design Director Hannah Smith commented on why she believes Think Cloud Studio has become one of the UK's best design agencies so quickly:
"At Think Cloud Studio our team work hard and together to give clients what they need. Clients like working with us because we offer design solutions from marketing to web design, including mobile apps to printed brochures. We really are a one stop solution for any business looking to increase customers and sales.