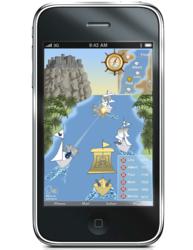 The harder you blow into the microphone on your mobile phone, the faster your boat will sail
Sheffield, South Yorkshire (PRWEB UK) 26 February 2013
In an attempt to create their boat racing game 'Blow Boat', Gavin Edley and Liam Winder, the South Yorkshire entrepreneurs behind the game, are now in a race of their own - to attain at least £12,000 of funding before the end of March using Kickstarter.com in order to bring their project to fruition.
'Kickstarter is a great new crowdsourcing platform that allows people with ideas and businesses to show other people, and allow them to invest a small amount of money to help make it happen' Gavin explains, 'you offer the 'investors' rewards, such as involving them in the project itself or giving them BETA access to whatever you are developing, for contributing small amounts of money to your project'.
Gavin and Liam expect to raise at least £12,000 on Kickstarter.com before the end of March in order to complete the development of the game, and launch it in the marketplace.
'We already have quite a lot of visuals and gameplay ready, we just need that final bit of funding to push the project to completion and give us the best chance of success when the game launches' said Liam, 'with contributions ranging from £1 through to £2,000, and lots of contribution levels in-between, if you help us out on Kickstarter.com you could receive anything from as little as a digital hug, up to actually being able to create your own custom racing boat for the game or naming one of the islands after yourself'.
Blow Boat the game features origami-style boats that you can race against friends, family, or the computer. The harder you blow into the microphone on your mobile phone, the faster your boat will sail.
Upgrades such as bigger sails and various weaponry can be purchased from the shop with the points you gain from racing, and different scenery/levels are available to keep game play engaging and fresh.
The pair's project went live on Kickstarter.com on the 26th February and can be found at the following address: http://www.kickstarter.com/projects/blowboat/blow-boat-a-mobile-buccaneering-adventure-game