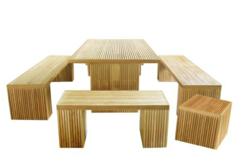 The new 'The Cube' collection has a 'simple elegance' that will live in harmony with almost any garden modern or old.
Basingstoke, Hampshire (PRWEB UK) 28 February 2013
Chic Teak, a leading supplier of outdoor garden furniture, has recently introduced a new range of contemporary dining furniture from guest German designer Claudio Bartels. Chic Teak who are renown for their quality traditional teak furniture view this exciting new range from Claudio as an exciting new era for Chic Teak in which it will promote exciting new pieces from guest designers in the coming summer.
The Cube is a visually stunning piece of garden furniture carefully made from smooth shaped slats of teak to give an unusual and distinctive look to this robust and striking set. The name, The Cube, is derived from each beautiful piece having a square shaped end wether it be a table, bench or stool.
The sumptuous fully assembled 4-peice 'The Cube' collection comprises of a rectangular table measuring 100 x 200cms and can accommodate between 8-10 guests. A 200cm (4 seater) or 100cm bench (2 seater) and a single seater stool. The cube is available as a mix and match set or can be ordered individually. Each piece is superbly crafted and of heavy weight
The seats are backless and all are flat topped with solid sided legs. All items are precision made by machine for fit, incorporating traditional mortice and tenon joinery, dowel and adhesive for maximum strength.
This is a striking and unusual set of garden furniture that not only is unique but  is bound to draw attention and can be incorporated into both informal or formal garden landscapes.
Claudio Bartels learnt his skill in Germany before setting up a studio in Indonesia where he sources his timber from government controlled plantations. Claudio Bartels is now recognised as one of the leading Indonesian teak garden furniture designers and his designs can be seen worldwide in leading hotels, entertainment institutions as well as private villas and gardens.
Chic Teak Managing Partner, Robert Bowden, commented: "It is an honour to be working with Claudio being such a distinguished designer. His furniture has always been very distinctive and of exceptional quality. This new 'The Cube' collection has a 'simple elegance' that will live in harmony with almost any garden modern or old and brings a new contemporary edge to our popular and classic bench and table designs. "
For more information on Chic Teak and their bespoke tree benches, visit their website at http://www.chic-teak.co.uk/ or telephone 0845 390 5000.