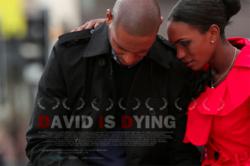 'David Is Dying' is in dialogue with its fans.
Los Angeles (PRWEB) February 27, 2013
Multi award winning writer/director Stephen Lloyd Jackson writes the February 2013 edition of the British Urban Film Festival's (BUFF) blog and praises his lead actors for 'delivering the goods'.
The emotional and dramatically charged movie based on love, possessiveness and death, also scooped its latest and first UK film award this month. Lonyo Engele won his second film award for his magnum opus performance in. Not a bad feat for his debut lead movie role.
'David Is Dying' [DID] is the first installment of movies from SAR Productions' 'Sex & Race' trilogy. 'DID' started out as a humble indie film project from producer, writer and Stephen Lloyd back in 2010. Nearly three years later, it has screened in over 20 international film festivals and scooped over eight international film awards.
In 2011, lead actor Lonyo Engele won the grand jury prize award for 'best male actor' at the 15th American Black Film. Jackson also won the grand jury prize award for 'best director'.
The most recent award for 'DID' was won by Lonyo Engele, whose portrayal of the somewhat sociopathic character 'David', scooped him the award in the 'best male performance in film' category, at the 2013 Screen Nation film and television awards.
In this month's BUFF blog, the Auteur, what writer/director Stephen Lloyd Jackson is sometimes referred to as, adeptly corresponds with 'DID' fans on the making of the movie and the casting of the lead actors.
'David Is Dying' is available from the following outlets:
Amazon Instant Video (U.S.A)
Amazon.com (U.S.A)
Createspace.com (U.S.A)
Amazon.co.uk (UK, Europe & Africa)