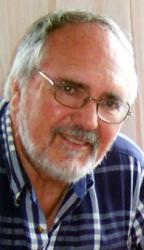 I was determined to write ten horror stories by Christmas.
London, UK (PRWEB UK) 28 February 2013
Overcoming months of painful recuperation after surgery and the loss of sight in one eye, Les Pobjie followed in his children's footsteps when his new anthology of horror stories was accepted for publication by Mirador Publishing.
Les, a newspaper sub editor from Australia, watched proudly from the wings for years as his children, Emily Maguire and Ben Pobjie, went from success to success with their own writing careers. However, it was only when he had to undergo painful knee surgery that he decided to try his own creative hand at fiction. "I've always been very proud of Emily and Ben," Les said. "Emily with her contemporary novels and Ben's cutting satires. They really have done remarkably well. It was my dream to follow in their footsteps."
While recuperating after the surgery for a full knee replacement Les contracted a painful eye infection that eventually led to the loss of sight in his right eye. "It was a very low period in my life," he admits. "I was undergoing painful physiotherapy at the same time my sight was failing. I gave myself a target to keep focused. I was determined to write ten horror stories by Christmas." By August, he had finished the first drafts; and now back at his day job as a newspaper sub editor, he worked on the revision of his stories in his spare time. He eventually completed them and they were immediately snatched up by Mirador Publishing.
"We were very proud to sign Les," said Mirador's Commissioning Editor, Sarah Luddington. "We were aware of the successes of his children, Emily and Ben, and it seems that the muse runs freely in this family." The stories tell of scary events triggered when the everyday abruptly shifts into another disturbing reality.
'Murmurs In The Night', Les Pobjie's compendium of dark and twisted horror tales, is published by Mirador Publishing and is available in all good bookshops and online both as paperback and ebook.
Les Pobjie can be contacted via email at lesp4ever(at)bigpond(dot)com.
Mirador can be contacted via their website at http://www.miradorpublishing.com.