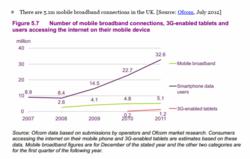 Most local business websites do not fit well into smart phone screens, and those that do seem to lack the small screen design logic that is required to help searchers on a smart phone engage with the website
Manchester, Lancashire (PRWEB UK) 28 February 2013
The Ofcom July 2012 market report on mobile usage in the UK states that two out of every five adults in the UK now own a smart phone. Also that 44% of smart phone users regularly use the device for surfing the internet. 31% of all online searches are through a mobile device.
Howard Jones, MD for Jungle Media in Manchester said, "We have found that most local business websites do not fit well into smart phone screens, and those that do seem to lack the small screen design logic that is required to help searchers on a smart phone engage with the website.
Often the reason for this is cost, so we will for a period substantially reduce the cost for this service to help local business gain new customers from this fast growing new market place."
About Jungle Media:
Jungle Media is a digital marketing agency based in Manchester specializing in search engine optimization (SEO), pay per click marketing (PPC), online display advertising, conversion analytics, social media and mobile.
Our aim is to provide a bespoke online marketing service that substantially improves customer volume and ROI for our clients.
Our values are to act with integrity, have a "no bull" approach and always be accountable to our clients.
Contact details – Howard Jones – email: howard(at)jungle-media(dot)co(dot)uk