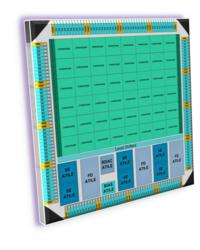 Triad's affordable configurable via-ASIC technology provides the warfighter with increased capabilities without increased SWaP
Winston-Salem, NC (PRWEB) February 27, 2013
Semiconductor obsolescence has become a weekly battle in the defense and aerospace communities. At the same time, programs are looking to revitalize products with new capabilities that are adding to the total electronics requirements of products.
Military-aerospace users are seeking a cost-effective, low-risk way to replace aging electronic products that are going end-of-life. And, designers need solutions that will allow them to add functionality while addressing their SWaP (Size, Weight and Power) constraints.
ViaASIC™ technology can be an optimal solution to address these challenges. Triad Semiconductor's ViaASICs integrate silicon-proven analog and digital resources onto pre-configured ASIC arrays requiring only a single via mask layer to customize the design and finalize the manufacturing process. ViaASICs offer a dramatically reduced-cost alternative to ASIC design, supporting both low volumes and fast development cycles. At Mentor's Integrated Electrical Solutions Forum (IESF), Reid Wender, VP of Marketing & Technical Sales at Triad Semiconductor will discuss and demonstrate how a systems engineer, with no IC design or modeling experience, can quickly develop and test their own custom mixed-signal integrated circuit. Instead of picking discrete and COTS parts from a catalog, the engineer can design their circuit interactively in a simple, schematic based design environment, test it, and then have it quickly implemented in as a Triad via configurable ViaASIC. The design environment (built on Mentor Graphics SystemVision tool) also supports multi-discipline system development and verifying the chip in the context of its resident system.
About the IESF
The Mentor Graphics Integrated Electrical Solutions Forum (IESF) 2013 is one of the world's leading events for design engineers, engineering management, and executives in the military and aerospace industries. IESF Military & Aerospace 2013 is being held at the Hilton Anatole, Dallas, Texas, on Wednesday March 20th, 2013.
About ViaDesigner™ ViaASIC EDA Software
ViaDesigner™ mixed signal circuit design and simulation software that runs on Windows® PCs is available for download at TriadSemi.com. Users can register for a free, full-featured 30-day evaluation copy of the software on the website or contact sales(at)triadsemi(dot)com to purchase the software.
A free, fully-functional copy of ViaDesigner can be downloaded from http://www.triadsemi.com/viadesigner.
Customers seeking to purchase ViaDesigner can contact Triad Semiconductor sales at info(at)triadsemi(dot)com or via the Triad website at http://www.triadsemi.com/contact.
Companies with mixed signal applications that could benefit from the low-costs, accelerated-development and low-risk of ViaASIC integration should contact Triad at sales(at)triadsemi(dot)com. Call (336) 774-2150 to speak with a ViaASIC application architect and explore the technology and business benefits of ViaASIC integration.
Via Configurable Array Technology
Triad is a fabless semiconductor company and leading supplier of configurable mixed signal integrated circuits (ICs). Triad utilizes patented via configurable array (VCA) technology that reduces custom IC development costs by 75% or more and allows for designers to go from project kickoff to working silicon in as little as 3 to 6 months. VCA technology only requires a single semiconductor mask change (the via mask) to configure and interconnect any analog or digital resource. Single via mask configuration means design re-spins or derivative designs can be taped out, fabricated, packaged, tested and delivered to customers in four weeks. This compares to the project-killing four to six month delays that can occur with full custom chip design.
About Triad Semiconductor
Triad Semiconductor is on a mission to make mixed signal IC design fast, easy and affordable. Founded in 2002, Triad is a trusted supplier of configurable mixed signal ASIC solutions to the defense, aerospace, medical, industrial, commercial and automotive markets. Triad was recognized in 2012 as one of Inc. Magazine's 500 Fastest Growing Private Companies. Triad is an ISO9001:2008 certified company. Triad is ITAR-certified and supports a fully ITAR-certified supply chain for defense applications.