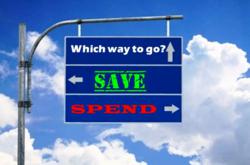 article re-awakens the savings zeal and leads readers to help change the way they look at money in relation to happiness
New York CIty, New York (PRWEB) February 27, 2013
The latest "The Five 'Deadly' Money Views of Highly Impulsive People" article published by FinancesOnline.com unmasks the truth behind wrong money views that lead many to suddenly lose their grip on hard-earned money saved.
According to journalists from FinancesOnline.com many people lose their spending control despite the fact that they have good money management education and recognize how hard it is to save and secure a good future. The hard facts on American spending versus saving discussed in the article are as follows:

Americans spent $1.2 trillion annually on goods and services they don't absolutely need, from boats to booze, based on the US Commerce Department report in 2011.
A high 70 percent of people who land sudden windfalls lose that money within several years, with their false belief that "no matter what you do, you're never going to worry about money again."
More Americans are quitting their jobs, with 2.16 million resigning in December 2012, the highest since June 2008. Career management pro Barbara Safani cited "listening to an inner calling" which includes travel around the world or relocating as one of the top reasons for resignations
The article answers important questions like what are the reasons people lose their spending control and dip into their funds meant for the rainy days, and what are the money views that are usually misinterpreted to justify irrational spending sprees.
With real stories of people who shared their experiences in giving in to lures of spending because of wrongly held money views, readers of the article will be guided in strengthening the commitmen to their savings vow. To read "The Five 'Deadly' Money Views of Highly Impulsive People" is to revisit crucial life-money skills that remind everyone of the meaningful reasons why they strive to faithfully save money, while those who find their savings grip loosening will learn practical defense tactics versus strong spending temptations.
By emphasizing the immediate need to alter bad money attitudes and mindsets that hinder one's aspiration for long-term security, "The Five 'Deadly' Money Views of Highly Impulsive People" article re-awakens the savings zeal and leads readers to help change the way they look at money in relation to happiness, self-worth and well-being. Getting rid of wrong money views puts the average American in control of your present finances and their future security.
More details about these bad money habits plaguing average Americans can be found in "The Five 'Deadly' Money Views of Highly Impulsive People" article at FinancesOnline.com.