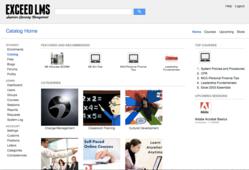 "Our partnership with Intellum gives us the ability to offer our customers a comprehensive solution to manage their online learning efforts." - Frank Labedz, President, TEAM Software
Atlanta, GA (PRWEB) February 28, 2013
TEAM Software provides a host of intuitive technology solutions, ensuring that building service and security contractors remain competitive--and continue to grow--despite shrinking margins and increasing competition. Intellum, a leader in cloud-based learning solutions, creates enterprise wide learning solutions that are every bit as enjoyable, powerful, and user-friendly as the consumer applications that shape the rest of our lives.
Through this strategic partnership, TEAM Software clients will gain access to Intellum's EXCEED, a world-class enterprise learning management system.
Some of EXCEED's key features include:

Tracking and notification capabilities for employee skills, qualifications, training courses, and professional certifications.
Effective management of local, state, and federal training mandates.
Mobile device compatibility for conducting training in the field.
Access to the client's own, real-world, personnel data, automatically updated on a daily basis. Just-in-time, site-specific courseware.
Both Intellum and TEAM's goal is to maximize their customers' efficiency in order to lead them to more profit.
"Our partnership with Intellum gives us the ability to offer our customers a comprehensive solution to manage their online learning efforts," said Frank Labedz, TEAM Software's President. "Our customers not only will be able to offer their employees training on TEAM's solutions, but they can also present their own internal educational tools and assign, track and manage those materials as well. This opens up a variety of opportunities to help our customers run their business more effectively."
Matt Gilley, Intellum's Chief Engagement Officer stated, "We are very excited to announce this partnership. Our approach to building software has always been, 'Do what you do best and integrate the rest.' This partnership is a great example of that philosophy in action."
About Intellum:
Intellum is a privately-held company headquartered in Atlanta, Georgia. Founded in 2000, the company has over 12 years of experience providing innovative, leading-edge software to customers of all sizes and in all industry segments. Intellum's enterprise technology solutions include EXCEED, a learning management system (LMS), and TRIBE, a secure, social collaboration tool for business.
About TEAM Software:
TEAM Software, Inc. has been a leading provider of software solutions and associated services for the building service and security industries for more than two decades. TEAM offers a host of fully integrated solutions from operations, financial and workforce management to employee and customer self-service to time and attendance products designed to help customers profit from efficiency. TEAM is an employee-owned company based in Omaha, NE.