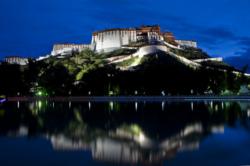 (PRWEB) February 27, 2013
Explore Tibet, a Lhasa-based Tibet tour company, has completed a barley roaster project in Lhakang Township, as part of its commitment to community projects in the region.
Lhakang Township is 150 kilometers north of Lhasa, located on the south bank of the Reting Tsangpo River. Because of its remote location, the villagers lead a traditional lifestyle without influence from the rapid changes of modernization. Lhakang has four villages, 230 households and a population of 1544, including both farmers and nomads.
Explore Tibet have said, "Life in the township is impossible without Tibetan tsampa (roasted barley flour) which has been their staple food for thousands years."
Tsampa, or barley ground into fine and coarse flour, is the staple food of Tibetans. Often called the national food of Tibet, tsampa has been important to Tibetan livelihood for thousands of years.
The funds for the barley roaster were donated by a couple from the Netherlands, who have travelled to Tibet three times with the Explore Tibet team.
"As the project coordinator, we connected the donors, Cristian and Renate, with the project beneficiaries, the villages of Lhakang Township, in order to carry out the project through our understanding of the local situation and customs," Explore Tibet have said.
After having received the funds from the donors, a member of Explore Tibet's field staff visited the village and met with village heads to discuss how and when the project could be completed. A roaster was ordered from a local Tibetan family-owned equipment shop and delivered to Lhakang. The villagers constructed a house for the roaster.
Administration of the barley roaster was handed over to the township, which will take care of the roaster as public property, giving every family the right to use it by paying small management fees to the township for maintenance and upkeep.
Explore Tibet is a locally-owned travel agency committed to responsible tourism, Tibet travel permit 2013 and sustainable practice.
Related Source: iTaste SVD