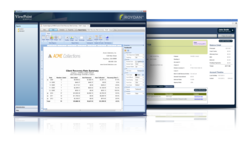 These offerings provide the latest in software technology. ClientConnect is built with an open API (Application Programing Interface) and ViewPoint is built on the Microsoft platform
Manitowoc, Wisconsin (PRWEB) February 28, 2013
Roydan – the maker of Bloodhound® debt collection software – has introduced the ClientConnect™ web application and the ViewPoint™ reporting tool, both of which boost the ability of Bloodhound software to deliver the speed, simplicity, security and professionalism that debt collection agencies demand.
"These offerings provide the latest in software technology. ClientConnect is built with an open API (Application Programing Interface) and ViewPoint is built on the Microsoft platform," says Roydan President Dan Hornung. "They include features and functionality that help debt collectors improve service to clients, operate more efficiently, and boost their bottom line."
Improving the client experience
The ClientConnect application includes new components and capability that will replace the company's existing Client Web Link solution, enhancing the client experience and reducing the need for clients to contact their agency for information. Its modern design and intuitive functionality make use of the latest web standards and best practices.
All activity displays on a single page – drop-down menus and multiple tabs keep information organized and at clients' fingertips. A sleek page template offers a full palette of design options. Agencies can personalize ClientConnect to match their website, or simply personalize an out-of-the-box template with their agency's logo and colors.
The application, which operates in conjunction with the new ViewPoint tool, also allows clients to:

Manage basic account and contact information.
Run customized searches and sort results.
Send messages to the agency and enter payments or adjustments.
Upload attachments directly (with notification to the agency).
Access archived reports and run reports.
Streamlined reporting
ViewPoint lets users quickly create client-facing reports in a standard format or personalized with the agency's logo and contact information, font and color choices, and charts and graphs. In addition to the standard reports, agencies can also modify templates to build new reports. The application's overall feel is similar to that of familiar programs such as Microsoft® Word and Microsoft Excel. Access is permission-based so that agencies can limit employees to certain program functions.
The data in ViewPoint is available in real time, giving users access to the latest information when building reports. Reports can be exported in multiple formats and can be scheduled to auto-generate and be delivered at specified intervals.
About Roydan
Roydan Enterprises Ltd., founded in 1980, has led the collection industry with new technologies and a number of advanced features found in its Bloodhound® debt collection software. Roydan's mission is to make debt collection agencies the most efficient and profitable in the industry by providing technologically advanced, cost effective solutions. For more information, call Roydan at 1-800-236-6906, or visit http://www.bldhound.com/.