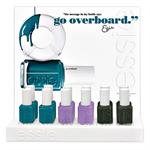 Discount Essie nail polish is now available and we are sure that stocks will start to move fast. I am very excited by this extra discount we are adding
(PRWEB) February 26, 2013
eNail Supply, the leading online retailer of hand, feet and nail products is adding further discounts to their already discounted range of branded beauty products. Some of the most popular brands will be included in this planned discount bonanza including items from the Essie range which will include some of the top colors from their collection of discount Essie nail polish.
Management say they are keen to make sure their customers get the best deal available and want to keep growing their customer base. They are certain that happy customers, who are saving money, will result continued healthy sales and growth in customer numbers.
CEO of eNail Supply, Mr. S Arya, said, "Yes, it's true we want to keep our sales figures healthy, which company would not? However this is also about our valued customers. Many of them are professionals working hard within the beauty trade and we know how difficult times are at the moment. This is our way of giving something back to them and showing them we will continue to provide the best brands, service and price possible. To start with we have discounted Essie nail polish. According to our sales reports, Essie nail polish is our top seller so we are sure that by providing discount Essie nail polish we will be choosing the brand they are most likely to buy."
The company's sales over the last quarter clearly show that the Essie nail polish range is more popular than any of the other brands. Their customer service team members have reported customers providing glowing feedback, saying Essie is the top choice because of the high quality finish it provides and the huge range of colors.
Mr Arya went on to say, "Discount Essie nail polish is now available and we are sure that stocks will start to move fast. I am very excited by this extra discount we are adding. I am looking rorward to hearing what are customers are saying about it. The management team and I are sure they will be delighted and feel a real saving on their purchases of discounted Essie nail polish."
Mr Arya also said his management team would be watching the sales figures over the coming weeks to monitor the top sellers. They fully intend to rotate the discounts for other favored brands in the future. They also intend to look at the potential for further bulk purchases of certain brands in the near future.
The company's goals are ambitious but they certainly are achieving their aims. Over the last year sales have risen every month and the popularity of the online retail store is growing, particularly amongst beauty professionals.
About us -
eNail Supply supplies professional and salon-quality beauty products for the hands, feet and nails. It stocks a huge rand of cheap nail polish brands including fingernail decals and nail art decals, the whole Essie range of Essie nail polish the discounted Essie nail polish, all for shipping worldwide. eNail Supply provide nail supplies online to licensed nail technician, aesthetician, depilatory professionals and beauty consultants as well as regular shoppers. It offers worldwide delivery and complimentary help and advice from a team of qualified technicians. Detailed information about discounted products can be found on the website.