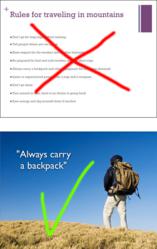 The brain is really good at remembering images and it is also really good at connecting images to abstract ideas. Good use of images is essential in a good PowerPoint presentation
New York, New York (PRWEB) February 28, 2013
Many have experienced the pain of a bad presentation. The one where the audience look at their watch every minute, hide their yawning, and wonder how long it will take before they loose their mind looking at a big screen with 18 bullet-points they have no clue what are about. Here are the four tips to improve a presentation, presented by Powerpoint Presentation Images:
1. Create a Story
The first thing to remember is that the PowerPoint document is not the presentation, but a visual tool to help the speaker telling a story. The object of a good PowerPoint is to empathize meaning, create clarity and make people remember the story
Start with creating the story on a piece of paper, with an opening, a middle part and an ending. The 30 first seconds of the beginning is when the audience is captured and engaged. In the middle section the story is told, and the end summarizes, repeats and gives the audience a call for action.
2. Avoid Death by Bullet Points
Ever created a presentation by opening PowerPoint and started filling in the bullet-points that are there? Never do this again. People do this mostly because the software (mis)leads them to do so. It's considered a "standard".
Bullet-points include too much text, and the human brain is not made to read and listen at the same time. This is why experts have created the "rule of 7" which states that any one slide should never include more than 7 words. Use this as a rule of thumb, and ignore it when it feels just. Find a suitable PowerPoint background; create a slide for each point instead of cramming it all in one slide.
3. Images, Images and More Images
The brain is really good at remembering images and it is also really good at connecting images to abstract ideas. Good use of images is essential in a good PowerPoint presentation. A good image clarifies a point and makes it remarkable without taking the focus away from the story. The brain can actually handle viewing something and listening to something at the same time.
Images for PowerPoint and presentations can be licensed at PowerPoint Presentation Images.
4. Keep It Simple Stupid (KISS)
The "Keep It Simple Stupid" phrase is from the design world. It basically means, don't do things unless you don't have to. It is a very powerful rule in presentations also. Do your audience a favor, go through the presentations and look at every slide and every detail. Ask: is this necessary? Does it contribute to the story? Be hard and remove everything that doesn't really need to be there.
By using these four basic presentation tips the audience will remember the presentation, and the story told.
Images for presentation use can be legally licensed at Powerpoint Presentation Images.