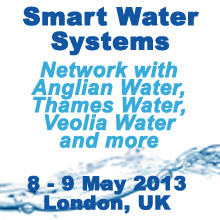 London (PRWEB UK) 26 February 2013
Maintaining supply and tighter asset management is now essential for water companies. Population growth and environmental pressures are squeezing supply and driving change towards a more sustainable model. Currently, homes utilising smart water meters use 10% less water and enable their suppliers to reduce leakage levels by a fifth. The future will see this capability developed further, ensuring greater water availability, reduced environmental impact and lower energy bills.
Against this backdrop, SMi's Smart Water Systems conference features a wide range of water utility case studies related to policies and regulations, planning, efficient technologies, best management practices, alternative water resources, the water and energy nexus, climate change and drought adaptation, water loss and network management, and public involvement.
Key speakers include:

Anne McIntosh, Chairman, Environment, Food and Rural Affairs Select Committee
Nick Kamen, Head of Energy and Utilities, Vodafone
Andy Slater, Director Marketing EMEA/AP, Sensus
Kim Bybjerg, Head of M2M Northern Europe, Vodafone
Rob Scarrott, Strategic Water Planning Manager, Thames Water
Lars Thiesson, Technical Director - Division of Water, Waste Water & Renewables, HOFOR Greater Copenhagen Utility
Paul Glass, Metering Manager, Anglian Water
Olivier Pison, Project Manager Smart Water and Energy, Suez Environment
Carl-Emil Larsen, CEO, DANVA Danish Water and Wastewater Association
Martin Perrin, Strategic Waste Planning Manager, Thames Water
Penelope Moss, Project Manager, Veolia Water
Sarah Mukherjee, Director of Environment, Water UK
For more information, visit http://www.smi-online.co.uk/2013smartwater33.asp.
Alternatively, contact Andrew Gibbons on +44 (0) 20 7827 6156 or email agibbons(at)smi-online(dot)co(dot)uk