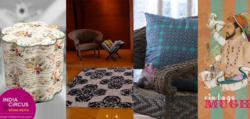 (PRWEB) February 28, 2013
The India inspired, furniture range that was earlier available only in India is now shipped internationally too. The furniture range includes stylish and colorful pouf, ottoman's and benches with storage, wire stools and side tables, single seater chairs that are aesthetically designed with eclectic graphics and prints inspired by ancient architecture, royal Mughal era, traditional motifs and the flora & fauna of India with a contemporary flavor. The online store http://www.indiacircus.com also showcases various other decor range including cushions, rugs, dining accessories etc. They also retail a beautiful collection of fabrics that are apt for furnishing & DIY.
The brand has taken this step as a result of the inquiry, feedback and love they have received from customers in the U.S.
"For the lovers of Indian art & design, contemporary decor, home decorators & color aficionados in the U.S., this range would be fab for the summer look of your home. Our aim is to try and bring out a different look every season that you would love. A big thank you for the love & Support", says Krsna Mehta - Creative Director, India Circus. "Thanks to all our partners for facilitating the same", says Hadi Curtay -Technology Director, India Circus.