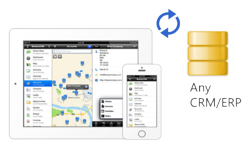 The release of a Mobile CRM that can be easily integrated with any CRM/ERP is one of the biggest challenges we ever faced. Yet, it is also exciting & truly promising
(PRWEB) February 27, 2013
Resco, a leading provider of mobile software solutions for CRM, releases today a new product — Resco Mobile CRM for any CRM/ERP. The new solution extends the usability of its popular Mobile CRM for Microsoft Dynamics CRM to other CRM/ERP back-ends and widens on that account the horizons for mobile CRM in general.
Mobile CRM is gradually becoming a necessity for lots of businesses. The mobile workforce, equipped with modern smartphones and tablets, requires software that enables an access to the enterprise data on the go. However, the current world of business software solutions remains extremely heterogeneous. With hundreds of different CRM/ERP systems on the market, an obstacle appears when customers call for a mobile interface.
First of all, there are only few solutions that provide native mobile applications. And then, even if there are some applications available, they often lack important features and don't offer customization capabilities.
Resco utilizes its know-how, gathered from its vast experience with Microsoft Dynamics CRM, and introduces a mobile application that fits any CRM/ERP back-end.
"We have checked the global mobile CRM market, and are quite confident of our Mobile CRM. The solution is the best one on the market and meets every requirement enterprises have," said Radomir Vozar, CEO at Resco. "The release of a Mobile CRM that can be easily integrated with any CRM/ERP is one of the biggest challenges we ever faced. Yet, it is also exciting & truly promising."
The new product consists of the mobile CRM app that works in offline and online mode and offers access to accounts, contacts, leads, and other items. It incorporates features such as Interactive Maps or Photo Capturing, but allows also advanced customizations capabilities, enabling alternations of the mobile app. The new, second part of the solution is the integration server component that acts as a bridge between the mobile CRM app and any CRM/ERP system.
The server can be used

About Resco Mobile CRM for Any CRM/ERP
For more information about the product, go to http://www.resco.net/mobilexrm/
About Resco
Resco was founded in 1999. The company is one of the global leaders in developing cross-platform mobile software solutions. The team of Resco professionals passes on their knowledge of mobile device technology by designing products for corporate customers, developers, integrators and end users. The purpose? Optimizing work and improving productivity.
For more information visit: http://www.resco.net