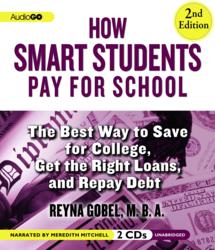 Whether you have $2,000 or $42,000 in student loan debt, this audio is a must-have.
North Kingstown, RI (PRWEB) February 26, 2013
In 2012's HOW SMART STUDENTS PAY FOR SCHOOL, financial journalist Reyna Gobel, M.B.A., provided a savvy guide for families planning for college and graduates facing the pressure of loan repayment. With empowering tips for pro-actively dealing with loans, both before and after college, the original audio program offered an abundance of helpful tips to help students uncover hidden resources and manage the debt they currently have.
Now, in this revised and updated second edition, there's a valuable new section dedicated to assistance specifically for military service members, veterans, and their families. Recent graduates will learn about the new income-based federal repayment plan, Pay as You Earn, which offers lower payments and faster debt forgiveness than previous government aid plans. In addition, tax numbers are updated for the early 2013 tax filing season.
HOW SMART STUDENTS PAY FOR SCHOOL removes the stigma from accruing debt and educates consumers on how to wisely manage their loans so they can live the life they want. Whether you have $2,000 or $42,000 in student loan debt, this audio is a must-have.
Reyna Gobel M.B.A. is a freelance journalist who specializes in financial fitness. She's frequently quoted as an expert on student loans and college costs and has appeared on PBS's Nightly Business Report. Gobel is the author of GRADUATION DEBT: HOW TO MANAGE STUDENT LOANS AND LIVE YOUR LIFE (2010) and a frequent speaker at CollegeWeekLive. Visit her website: Graduation Debt.
Reyna is available for interviews during this important college-decision season. Please contact us for more information or to schedule an engagement.
About AudioGO
AudioGO, the home of BBC Audiobooks, is a leading publisher of distinctive single-voiced and full-cast dramatized audiobooks in the United States and Canada. We are the exclusive North American distributor for BBC Audiobooks, one of the most prolific publishers of complete and unabridged audiobooks and radio dramatizations in the world today. AudioGO distributes product direct to libraries across North America and to retailers via Perseus Distribution. For more information, visit our websites: http://www.audiogo.com and http://www.audiogo-library.com.