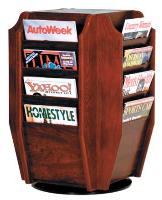 One of the beautiful aspects of these displays, is that we can now offer products that combine the warmth of wood with the functionality of acrylic
Norco, CA (PRWEB) February 28, 2013
Strategically enhancing its position as an industry leader in display products, Plastic Products Manufacturing (PPM) is today unveiling a new line of Wood Wall Mount and Rotating Floor Stand Magazine Holders. Divided into three distinct lines, this announcement comes on the heels of other new oak additions including Wood Brochure Holders as well as Wooden Chart Holders and File Holders for the medical field. These new wood displays have been added to augment an already popular line of acrylic displays and present more options for PPM customers in 2013 and beyond.
"One of the beautiful aspects of these displays," said PPM President William Saunders, "is that we can now offer products that combine the warmth of Oak with the functionality of acrylic. The Stance line exemplifies the best of both."
Indeed, Stance Oak and Acrylic Literature Displays are constructed with solid oak sides in three finish options, clear acrylic shelves, and optional removable inserts. The removable dividers give users versatility and choices in volume, location, and how they can be repositioned for future use. The racks themselves are designed to display literature, magazines, and brochures straight up without curling at the corners. With a clever combination of clear corner supports and curved and tilted faces, even lighter single-sheet literature stands straight. Hence, the Stance name.
Another attractive addition is the Cascade line of Wall Mount Magazine Racks. Also available in three finishes (Light Oak, Medium Oak, and Mahogany) Cascade Racks bring their own array of configurations and aesthetic options. 4, 7, or 10 Pocket Magazine Wall Racks with a "stacked" appearance lend themselves ideally to "skinnier" wall spaces and areas where horizontal space may be at more of a premium. 8, 14, or 20 Pocket Wall Racks displaying magazines in a wider side-by-side format provide a welcome addition where vertical usage may be more challenging. And while wall racks come predrilled with mounting hardware included, floor racks come with feet for stand-up display. The Cascade Rotating Magazine Holders offers a unique style unto itself… almost a work of art in its own way, as well as a superbly functional and extremely attractive display. Sales expectations for this style and the Cascade line in general remain high.
The rotation feature is highlighted in a totally separate menu of Oak Rotating Literature Displays in varying heights, widths, and weights. These rotating oak carousels provide a perfect avenue for organizing magazines and brochures in an attractive yet smaller type of rack with an even more surprisingly smaller footprint! Each style has a unique appearance and durable, state-of-the-art finish, as well as clear acrylic front panels to allow full view of the literature on display. Removable dividers let these rotating displays multi-task with combined magazine and brochure preferences, including one floor display that rotates atop its own pedestal.
"We expect these rotating displays to be quite a draw, especially for the uninitiated," observed Saunders. "Those who have been considering an upgrade in their office setting or waiting areas will appreciate the attention they draw."
PPM has long been synonymous with top quality, industry leading acrylic displays. The unveiling of the new oak lines for 2013 marks a significant extension of PPM product excellence…with or without acrylic attributes being used in conjunction.
Specializing in manufacturing and distributing Acrylic Display Products, Signage, and Point-of-Purchase displays for more than three decades, Plastic Products Manufacturing has a strong reputation for top quality standards, outstanding delivery, and an exclusive "Customer Bill of Rights." Now with the addition of Solid Oak Magazine Holders, PPM sign holders, literature displays, chart pockets, display holders, and other displays are immensely popular across a broad cross-section of industries, including hospitality, medical, automotive, and food service operations.
Among its top accounts, PPM serves the needs of Glaxo Smith Kline, H & R Block, Proctor and Gamble, Starbucks, WalMart, Walgreens, Hertz, T-Mobile, Target, and Honda just to name a few. For more information about PPM and insight into these upcoming new developments, please visit http://www.plasticproductsmfg.com.