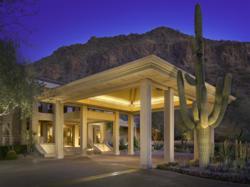 SCOTTSDALE, Ariz. (PRWEB) February 26, 2013
The Canyon Suites at The Phoenician has been awarded the coveted Five Star ranking by Forbes Travel Guide, the only hotel in Arizona, and one of just 76 properties worldwide, to be so honored. The announcement was made earlier today in Los Angeles during the unveiling of the 55th annual list of Star Award-winning hospitality establishments. All 2013 recipients will be showcased on http://www.Startle.com, the online home of Forbes Travel Guide.
Debuting in 2007, The Canyon Suites provides added privacy, exclusive offerings and a uniquely personalized experience, as well as access to The Phoenician's premier services and amenities. Signature features include dedicated Canyon Ambassadors to coordinate individual guest preferences prior to arrival while assisting with any need or request made throughout the stay; in-room check-in; departure services including printing of boarding passes and arranging shipping needs; daily complimentary wine tastings with a sommelier; a private infinity pool with spacious cabanas; and a chauffeured-driven Mercedes for transportation throughout the 250-acre resort and to/from Old Town Scottsdale's shopping and entertainment districts. Recently, two new amenities were introduced: a complimentary guest hiking pack, accompanied by transportation to/from the Camelback Mountain trails; and a to-go breakfast option, prepared by the resort's award-winning culinary team.
The Canyon Suites has also been awarded a Five Diamond ranking from the Automobile Association of America (AAA) every year since 2008, and has earned a consistent No. 1 ranking on TripAdvisor since 2012.
"We are extremely honored to have received the Forbes Five Star Award, a true testament to our commitment in providing Canyon Suites guests with a specially tailored luxury experience, based on each individual's likes and preferences, and defined by an unparalleled attention to detail," said Managing Director Mark Vinciguerra. "We look forward to expanding upon this commitment as we continue to unveil additional innovative services and programs throughout the year."
Added Michael Cascone, president and COO of Forbes Travel Guide: "The Forbes Travel Guide annual Star Awards represent the best in class in luxury hospitality. Travelers seeking exceptional experiences rely on our ratings to guide them to the world's finest hotels, restaurants and spas."
For a detailed explanation of how Forbes Travel Guide compiles its Star ratings, visit http://www.startle.com/about/ratings.
Forbes Travel Guide, formerly Mobil Travel Guide and originator of the prestigious Five Star ratings and certifications, has provided the travel industry's most comprehensive ratings and reviews of hotels, restaurants and spas since 1958. Forbes Travel Guide has a team of expert inspectors who anonymously evaluate properties against rigorous and objective standards, providing consumers the insight to make better-informed travel and leisure decisions. The information gathered from the inspectors' visits can be found along with content by curated hospitality experts, tastemakers, Forbes Travel Guide editors and correspondents at Startle.com, online home of Forbes Travel Guide.
Nestled at the base of Camelback Mountain, The Canyon Suites is an exclusive 60-room boutique hotel featuring 40 suites and 20 guestrooms, located on the grounds of the 250-acre Phoenician. The Canyon Suites is designed to provide more customized, enhanced offerings for guests, reaching beyond expectation to deliver the exceptional. Both The Canyon Suites at The Phoenician and The Phoenician are owned and operated by Starwood Hotels & Resorts Worldwide, Inc., as part of The Luxury Collection. For additional information, please call (480) 941-8200 or (800) 888-8234.
###