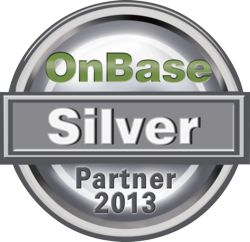 "We are excited about the award, as it substantiates our footing as one of the fastest growing Hyland integrators in the Eastern US." - Owen O'Connor, Vice President of Sales
Moorestown, NJ (PRWEB) February 28, 2013
MTS Software Solutions, Inc., a thirty year provider of document management and business process automation solutions, has been awarded Silver Partner status from Hyland Software, Inc. MTS is a reseller of Hyland's OnBase enterprise content management (ECM) solution.
MTS received the award on February 11th, during Hyland's Team OnBase Partner Annual Conference in Naples, Florida. Over 300 of Hyland's channel partners were invited and approximately 15% receive elite awards of Platinum, Gold or Silver. The criteria for these awards are based on sales revenue achieved during the previous year and on sales of new OnBase user licenses.
"We are excited about the award, as it substantiates our footing as one of the fastest growing Hyland integrators in the Eastern US." noted Owen O'Connor, MTS VP of Sales. "Additionally, it is a credit to our Professional Services team executing successful implementations, as most of our new clients have come from referrals."
"This award from Hyland was certainly an accomplishment, and we see ourselves superseding this milestone in the years to come." stated Andy Schwartz, MTS VP of Strategic Accounts.
About the Hyland Software
Hyland's enterprise content management (ECM) solution, OnBase, is one of the most flexible and comprehensive ECM products on the market today. OnBase empowers users to grow their solutions as needs change and business evolves. It is tailored for departments, but comprehensive for the enterprise, designed to give you what you need today and evolve with you over time. For more information about Hyland Software's ECM solutions, please visit Hyland.com.
About MTS Software Solutions
Founded in 1981 and headquartered in Moorestown, NJ, MTS provides software and hardware solutions that combine innovation with an intelligent business sense that brings about dramatic improvements in office process efficiencies to elevate the bottom line for over more than 7,000 Corporate and Academic organizations. Additionally, MTS provides document imaging solutions, document scanning services, and microfilm/microfiche conversion to digital services. For more information, visit http://www.mtssoftwaresolutions.com
MTS MEDIA CONTACT: Andy Schwartz, 856-642-1188