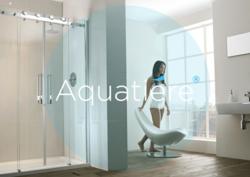 Feels like standing in the middle of the Amazon Rainforest and not only looks great but also offers many health benefits for the bather
(PRWEB UK) 27 February 2013
Aquatiere water filters, well known for their home water filtration system has recently collaborated with Callow-Brebner Bathrooms to offer an exclusive new concept in bathroom design and the art of bathing.
'We intend to create a completely new and idealistic environment for the family, offering crystal clear, chlorine free, ionised water in the bathroom. This works especially well in our bespoke designed wet rooms, the bathroom can be transformed into what feels like standing in the middle of the Amazon Rainforest and not only look great but also offer many health benefits for the bather,' Says Graham of Aquatiere.
The secret to this new concept is the Aquatiere Bathroom Filter. This extremely versatile combined filter is constructed in durable stainless steel and provides non scaling water for bathing and showering. Combined with a luxurious bathroom designed by Callow-Brebner, an average bathroom can be transformed into a luxury haven for those who suffer with skin conditions but is also hugely beneficial for the whole family.
The specially designed filter is simple to fit and can be fitted whilst the bathroom is being refurbished. The water purifier for home benefits are as follows:
Proven to help Eczema and Psoriasis
Thousands of people use Aquatiere water filters to control the symptoms of eczema and psoriasis.
Removes Chlorine
Chlorine in a shower can cause brittle hair, dandruff, dry skin, and red irritated eyes. Medical studies also suggest chlorine can agitate pre existing eczema and asthma.
Kills Bacteria
Eczema flare ups are created by a common bacteria which enters the top layer of skin. Aquatiere filters kill this bacteria.
Reduces Scale
Aquatiere filters controls scale in showers. Its active surface ionises the water, reducing surface tension and reducing scale.
Extends hair colour life
Chlorine strips the colour from hair. Aquatiere filters remove chlorine making it kinder to hair to increase colour life, softness and shine.
Contains Ceramet
Aquatiere filters contain ceramic filter media 'Ceramet' which controls bacteria, reduces scale and enhances PH balance.
Anti-oxidant Alkali Water
Aquatiere filters produce anti-oxidant alkaline water which combats acidity, flushes out toxins whilst restoring the bodies natural electrolyte balance. It also provides active hydrogen and healthy minerals such as Mg, K, Ca, and Na.
A 20 Ltrs per minute flow Filter is suitable for any size bathroom, fed by combination boilers, pressurised systems or traditional water tanks.
Callow-Brebner Bathrooms offers a unique bathroom design service tailored to the needs of the customer and offer very competitive prices, they say, 'Not sure how you want your new bathroom to look? Ask about our design service. We'll transform your bathroom into a fresh, inviting space, whether it's a functional family bathroom or a luxurious en-suite. With the combination of one of Callow Brebner bathrooms and the best water filtration system available, you won't ever have to worry that your water isn't pure enough for your baby, or your child's eczema will flair up post bathing, its the perfect, stress-free solution'
The Price of the Aquatiere Water Filter system on its own is £375.00, However with the purchase of a Callow-Brebner bathroom, the Aquatiere filter is thrown in, meaning a brand new, filter fitted bathroom for the whole family.
Callow-Brebner Bathrooms collaboration with Aquatiere could be the answer to a lot of peoples skin issues and worries.
For Callow-Brebner bathrooms visit: http://www.cbbathroomshowroomringwood.co.uk
And for more information on Aquatiere and to make an enquiry visit:
http://www.aquatiere.co.uk
E: sales(at)aquatiere(dot)co(dot)uk
T: 0800 0284465
Follow: http://www.facebook.com/aquatiere
http://www.twitter.com/aquatiere
A: 6 - 8 Stag Business Park, 
Christchurch Road,
Ringwood,
Hampshire,
BH24 3AS