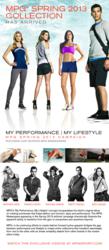 Feminine, playful detailing has been significantly bolstered this season to appeal to today's active consumer who has become increasingly aware that conventional 'gym wear' need not scrimp on style.
Winnipeg, MB (PRWEB) February 28, 2013
Canadian activewear apparel label, MPG Sport, has launched its 2013 Spring 'My Performance, My Lifestyle' Collection that continues to convey the brand's original philosophy of always pushing the envelope in melding fashion forward designs with technical, performance-enhancing fabrications and detailing. Each season presents an opportunity for the MPG designers to find ever more creative methods of uniting the seemingly opposite worlds of sport and fashion in perfect harmony with the result being a complete line of garments that transcend the gym or yoga studio to be worn dressed up in casual environs, especially important to individuals unwilling to sacrifice style for comfort.
Updates to the collection for Spring 2013 include seamless garments, adding geometric patterns to the print story, laser cut lace accents, increased ruching for added playful femininity and the utilization of organic cotton in both men's and women's.
The accessories product category has grown significantly to include a variety of new products such as a braided headband, a geo-printed snap scarf and a stylized water bottle in addition to the expanded line of bags that witnessed the arrival of a sash-style hip bag, the sophisticated Black Series bag and an expanding tote.
Head of design, Sonya Ramgotra, commented upon the line thusly: "Feminine, playful detailing has been significantly bolstered this season to appeal to today's active consumer who has become increasingly aware that conventional 'gym wear' need not scrimp on style. Particularly promising are the high-fashion pieces in men's, a segment that has traditionally eschewed style for utility."
Accessories designer, Heather Johnson, had this to say about the category's additions: "An extension of the MPG brand story, our accessories reflect the adherence to well-designed, well-produced products that hew to the MPG 'My Performance, My Lifestyle' concept."
As always, the 'My Performance, My Lifestyle' campaign features 'models' who are first and foremost athletes, dancers and performers and are able, in the images and videos created this season, to show the garments in both active and fashion settings. The individuals in this season's campaign, the MPG Messengers, are as follows:
Bret Hoebel, celebrity trainer from NBC's The Biggest Loser and founder of Hoebel Fitness
Kate Deines, Seattle Reign & U-23 National Team Soccer Player
Rachael Simon, Synchronized Swimmer, Le Rêve at The Wynn Hotel, Las Vegas
Heather Lang, Broadway Performer and former cast member of Spider-Man: Turn Off the Dark
Franco Nieto, Fellow, Northwest Dance Project
Kelli Segars, Personal Trainer at FitnessBlender.com and grand prize winner of MPG Messenger Search Contest
The images and video were shot by Seattle-based Marc Von Borstel, who has garnered extensive experience shooting our Messengers, and Brian Liepe, who was responsible for the previous season's Fall 2012 videos. The editorial materials capture the diverse individuals both in their natural active settings to capture their performance side but also in a high-glam studio environ to illustrate both the Messengers' and the apparel's innate fashion forward elements.
About MPG:
Founded in 2004 as a division of Mondetta Clothing, MPG, in its continuing efforts to create fashion forward active apparel, bridges the gap between performance and lifestyle to create entire collections that transition from one to the other with an innate versatility absent from other brands in the market. And although much of the original inspiration for the brand and its aesthetic was shaped by dance and dancers, MPG has found fans across a wide spectrum of individuals in pursuit of athletic excellence, including a large segment practicing yoga. From a handful of retail outlets in 2004 and 2005, the brand is now carried in over 500 outlets across North America including some of the most prestigious sports retailers, gyms/spas and yoga studios in the US and Canada. Looking forward, the company plans on continuing opening more doors to both big box retailers as well as smaller locations.