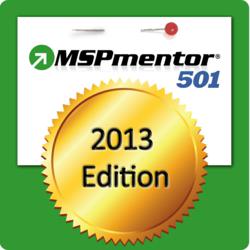 "Sovran is proud to have been recognized as one of the world's top MSP's. This is a testament to our employee achievements and ultimately our client satisfaction." said Brian Arneson, President/COO, Sovran. "We are deeply committed to serving our client
Eagan, MN (PRWEB) February 28, 2013
Sixth-Annual Report, Formerly the MSPmentor 100, Lists The World's Top 501 Managed Service Providers (MSPs)
February 26, 2013: Sovran, Inc has landed on Nine Lives Media's sixth-annual MSPmentor 501 Global Edition (http://www.mspmentor.net/top501), a distinguished list and report identifying the world's top 501 managed service providers (MSPs). This year's report has been expanded extensively to include:
•New: MSPmentor 501 Global Edition
•New: MSPmentor 100 Small Business Edition (top MSPs with 10 or fewer employees)
•MSPmentor 200 North America Edition
•MSPmentor 50 EMEA (Europe, Middle East, Africa) Edition
•MSPmentor 25 AANZ (Asia, Australia, New Zealand) Edition
•New: In-depth data tracking mobile device management (MDM), managed cloud services and other recurring revenue opportunities for MSPs.
"Sovran is proud to have been recognized as one of the world's top MSP's. This is a testament to our employee achievements and ultimately our client satisfaction." said Brian Arneson, President/COO, Sovran. "We are deeply committed to serving our clients in an exceptional way."
The MSPmentor 501 report is based on data from MSPmentor's global online survey conducted October-December 2012. The MSPmentor 501 report recognizes top managed service providers based on a range of metrics, including annual managed services revenue growth, revenue per employee, managed services offered and customer devices managed.
"MSPmentor congratulates Sovran on this honor," said Amy Katz, president of Nine Lives Media, a division of Penton Media. "Qualifying for our MSPmentor 501 Global Edition puts Sovran in rare company."
MSPs on this year's global 501 list lifted their combined annual recurring revenues 24.5 percent to $2.54 billion. Together, those MSPs now manage more than 5.6 million PCs and servers, and nearly 400,000 smartphones and tablets, according to Joe Panettieri, editorial director, Nine Lives Media.
MSPmentor, produced by Nine Lives Media, is the ultimate guide to managed services. MSPmentor features the industry's top-ranked blog, research, Channel Expert Hour Webcasts and FastChat videos. It is the number one online media destination for managed service providers in the world.
About Sovran:
Sovran is a Minnesota-based technology solutions provider that is equally committed to both customer care and technology. Since 1987, Sovran has been providing customized technology solutions and ongoing services that truly focus on the goals of our customers. In addition, Sovran is now home to Minnesota's premier IT Training Center, New Horizons Computer Learning Centers Twin Cities. Sovran partners with top firms in the tech industry, including Microsoft, HP, Cisco, VMware, Nimble and more to provide our customers with unparalleled support and integrated IT services.
About Nine Lives Media
Nine Lives Media, a division of Penton Media (http://www.penton.com), defines emerging IT media markets and disrupts established IT media markets. The company's IT channel-centric online communities include MSPmentor (http://www.MSPmentor.net), The VAR Guy (http://www.TheVARguy.com) and Talkin' Cloud (http://www.TalkinCloud.com).
Contact:
Nine Lives Media, a division of Penton Media
Joe Panettieri, Editorial Director
212-204-4206 or joe.panettieri(at)penton(dot)com