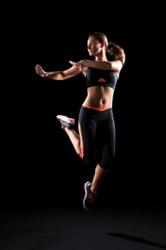 Every year, many people join gyms in January but find reasons to stop going by the end of February. Total Fitness want to get more people back in the gym.
(PRWEB UK) 28 February 2013
Wilmslow based Total Fitness have today announced 'Total Losers', a new campaign running in partnership with EasyFit aimed at getting more people into gyms to lose weight.
Every year many people join gyms in January resolving to get fit and lose weight but find reasons to stop going by the end of February. But with initiatives like Total Losers and an offer of £140 worth of fitness goodies upon joining the programme, Total Fitness want to get more people back into the gym and sticking to their long forgotten New Year's resolutions.
The 16 week programme launching in March will be offered to members and non-members across 9 of the fitness centre chain's 16 regional gyms in the North West. Participants will be given access to specialised classes run by personal trainers enabling them to develop and work through a customised weight loss schedule.
Each Total Loser will record their progress via weekly weigh in's and compete with Total Losers from their own and other centres in a leaderboard for the whole campaign. The overall winner will be awarded a holiday at the end of the programme for losing the most weight or having the best body transformation. Every participant will also be rewarded with £2.50 for every lb of weight loss which can be used against Personal Training!
The first Total Loser will be announced in the summer and sent on their holiday in time to avoid the British summer washout!
Speaking at the announcement of the campaign, Total Fitness' Russell Teale commented "I'm delighted to be involved in helping our members and their friends achieve the body they have always wanted. We would urge everyone to get involved no matter how much weight they want to lose. It will be exciting watching the leader board as we know we will get some fantastic results."
The Total Loser programme will be tracked in branch at individual gyms, and those not involved in the first batch of Total Losers will also be able to follow the campaign through exclusive content on Total Fitness's Twitter and Facebook pages.