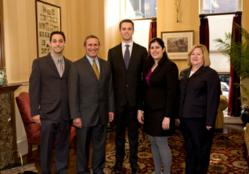 (PRWEB) February 28, 2013
The Law Firm of Pozzuolo Rodden P.C., announces the release of the article "Bill Seeks To End The Pennsylvania Inheritance Tax On Family Businesses." Below is a sample of the first couple of paragraphs. If you would like to read more, please read the full article and other corporate law, or estate planning topics at http://www.pozzuolo.com/Pubs_Articles.shtml
Bill Seeks To End The Pennsylvania Inheritance Tax On Family Businesses
In January 2013, the Pennsylvania House Finance Committee approved the legislation from State Representative Steve Bloom, R-Cumberland, which seeks to end the inheritance tax on family businesses. If the bill is passed, it will end the assessment of the inheritance tax on all assets of a family business which are transferred at death.
Unfortunately, due to the current inheritance tax, some family businesses are forced to liquidate in order to pay the tax liability. Believing that Pennsylvania would be better off if these family owned businesses are permitted to survive and thrive, Rep. Bloom seeks to end the tax in the same way that a 2012 bill ended the tax for family farms.
Certain limitations would apply in order to benefit from the preferential tax treatment. For example, the family business would have to be operated for at least five years following the death. Furthermore, the "business" would have to quality under certain common law definitions in order to be considering a qualifying family business. Potentially, if a business qualified, it could transfer all the assets of the business at death without the estate having to pay taxes on the transfer of the assets. The family would not need to risk shuttering the business just to pay taxes if this were the case.
It is strongly recommended that family businesses contact the local representative to give support for HB 48.
State Rep. John Taylor: 215-425-0901
State Rep. Mary Jo Daley: repmaryjodaley(at)pahouse(dot)net
State Rep. Rosita Youngblood: ryoungblood(at)pahouse(dot)net
State Rep. Dwight Evans: devans(at)pahouse(dot)net or akendra(at)pahouse(dot)net
State Rep. Stephen Bloom R-Cumberland: sbloom(at)pahousegop(dot)com
State Rep. Joseph T. Hackett: jhackett(at)pahousegop(dot)com
State Rep. Kate Harper: kharper(at)pahousegop(dot)com
State Rep. Margo Davidson: margo(at)votemargo(dot)com
State Rep. Tom Killion: tkillion(at)pahousegop(dot)com
If you would like to read other corporate law or estate planning topics written by Pozzuolo Rodden, PC, please go to: http://www.pozzuolo.com/Pubs_Articles.shtml
Pozzuolo Rodden, P.C. provides specialized cost-effective legal services to privately held business owners and high-net-worth clients in Pennsylvania and New Jersey in excess of 35 years.
Practice Areas:
Business planning and transaction, complex business litigation, commercial real estate and development, construction law and litigation, advanced estate planning and administration, tax and pension law, high profile and intricate family litigation, and employment law and litigation.
Pozzuolo Rodden, P.C.
Counselors at Law
2033 Walnut Street
Philadelphia, PA 19103
215-977-8200