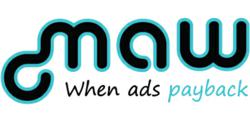 Students are tech-savvy and full of energy, and always bring fresh ideas—which is what we want for MobAdWin
TAMPA BAY, FL (PRWEB) February 26, 2013
The new mobile advertising application, MobAdWin (MAW), is helping local students offset tuition costs and put cash back into their pockets while helping to expand a growing business. MAW is the new, efficient and respectful way to advertise—where both consumers and advertisers benefit equally. MAW is the only app that allows consumers to get paid for reviewing ads and businesses the ability to target specific demographics to see their ads.
As more companies embrace this new wave of advertising, MAW continues to grow at a rate of 20% per week, company officials say. MAW recently hired college students from the University of South Florida. With Florida touting some of the nation's best-value universities (1), MAW's choice of employees was a strategic business decision aimed at benefitting both the company and the students.
Alex Dammous, co-founder of MobAdWin, believes it is important to seek out college scholars for his new app, because the generation is knowledgeable and up-to-date on current technology. The students are comprised of advertising and marketing majors who jumped at the opportunity to work with an innovative start up company.
The average cost of attendance for an average USF student exceeds $20,000, with over half of all graduating students paying at least that amount in student loans (2). With so many students affected by this, as well as the strict financial aid qualifications, many students are looking for a dependable source of income.
"Students are tech-savvy and full of energy, and always bring fresh ideas—which is what we want for MobAdWin," Dammous says.
Unlike other Internet marketing companies, MAW does not take a cut of the promos/coupons/goodies offered by the businesses that choose to advertise through the app. There is no screening of Internet traffic and no installation of cookies, nor are there any other means to build leads. Consumers participate voluntarily and remain in complete control over their information, while being guaranteed that their contact information remains completely private.
On the business owners' side, the smartphone users are simply anonymous users with parameters. Businesses only pay for any of their ads that get feedback, so they can see if they're making an impact with their advertising. The main benefit is that they also get customers, since they are able to choose the targeted demographic to view their ads.
Dammous plans to hire more undergraduates for various sales and promotion positions in 2013.
For more information as a consumer or a business, or for potential employment opportunities, visit http://www.mobadwin.com.
About MobAdWin:
MobAdWin (MAW) was established by Alexandre Dammous (a licensed attorney in the European Union, certified mediator in the US, and international law consultant, who completed a masters in international law from Stetson and his JD from Université de Liège) and Renaud Migeot (a former senior executive banker with a specialization in securities). Together, these two experienced businessman realized that advertising wasn't working the way they knew it could. MobAdWin is the first and only Win-Win marketing platform, and is innovative in the mobile marketing world. The users and advertisers interact, with almost all costs shared with the customers. The users earn cash and perks (discounts, special offers, gifts) and decide when and how they receive the ads via smartphone. The advertisers truly interact with the customer base. MAW is currently available as a free download on both iOS and Android.
(1)Ordway, Denise-Marie. "Report: UCF, 5 Other FL Universities Rated among Best Values in the Nation Sentinel School Zone Orlando Sentinel." OrlandoSentinel.com. N.p., 27 Dec. 2012. Web. 07 Feb. 2013. blogs.orlandosentinel.com/news_education_edblog/2012/12/report-ucf-5-other-fl-universities-rated-among-best-values-in-the-nation.html.
(2)"University of South Florida." COLLEGEdata.com Web. 07 Feb. 2013. collegedata.com/cs/data/college/college_pg03_tmpl.jhtml?schoolId=1647.
(3)Stratton, Jim. "Florida Jobless Rate Falls Slightly to 8 Percent." Orlando Sentinel. N.p., 18 Jan. 2013. Web. 07 Feb. 2013. articles.orlandosentinel.com/2013-01-18/news/os-unemployment-florida-december-20130118_1_jobless-rate-unemployment-rate-job-growth.