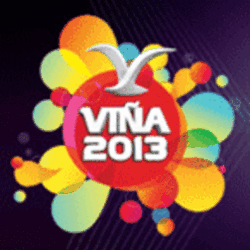 "TriCaster is the #1 multi-camera video production system in the market..."
San Antonio, Texas (PRWEB) February 26, 2013
NewTek announces today that it will be the exclusive streaming partner with GrupoZ for The Viña del Mar International Song Festival, one of the largest music festivals in Latin America.
The festival runs February 24th through March 1st in Viña del Mar, Chile. This year's line-up includes performances by Elton John, The Jonas Brothers, Latin rock group Mana, and Bachata singer Romeo.
"TriCaster is the #1 multi-camera video production system in the market and we have been working with it for quite some time," said Christian Avalos with GrupoZ. "We are even more excited to be expanding our event coverage at the festival this year by bringing in a Tricaster 8000 and a 3Play 425 for live streaming."
Ciro Hinojosa, a well-known 3D artist from Monterey Mexico, used NewTek's breakthrough Virtual Set Editor (VSE) software, to build and customize the festival's network-style virtual sets and double-box effects.
"Ciro has already designed a number of virtual sets on Tricaster for numerous TV stations all across Latin America, including a set for the past London Olympics for a station in Venezuela," said Ralph Messana, Director of Latin American Sales at NewTek. "These custom sets combined with the seamless stream of TriCaster will make an amazing show. It is definitely a must see."
About NewTek
NewTek is transforming the way people create network-style television content and share it with the world. From sporting events, Web-based talk shows, live entertainment, classrooms, and corporate communications—to virtually any venue where people want to capture and publish live video, we give our customers the power to grow their audiences, brands and businesses, faster than ever before.
Latin America Clients include: TV Globo, TV Azteca, Pulsar, Televisa, Rede Nacional, and Tele Medellín.
U.S. Clients include: "The X Factor," ESPN X Games, New York Giants, NBA Development League, Fox News, BBC, NHL, Nickelodeon, CBS Radio, ESPN Radio, Fox Sports, MTV, TWiT.TV, USA TODAY, Department of Homeland Security (DHS), and National Aeronautics and Space Administration (NASA).
NewTek is privately owned and based in San Antonio, Texas. For more information on NewTek please visit: http://www.newtek.com, Twitter, YouTube, Flickr or connect with us on Facebook.
###

NewTek, Broadcast Minds, TriCaster, 3Play and LightWave are trademarks of NewTek.
All other products or brand names mentioned are trademarks or registered trademarks of their respective holders.