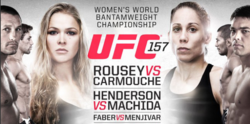 UFC 157 Arguably one of the most exciting events of the year so far.
Anaheim, CA (PRWEB) February 27, 2013
As Paradigm Sports Management affiliates and proud sponsors of Court McGee, several DFX Sports & Fitness team members attended UFC 157 at the Honda Center last weekend.
Arguably one of the most exciting events of the year so far, MMA fans everywhere crowded the Honda Center in anticipation for great bouts like Lawler vs. Koscheck, Henderson vs. Machida, Faber vs. Menjivar, McGee vs. Neer, and of course, Rousey vs. Carmouche. This was going to be the first ever womens fight in UFC history and team DFX was not going to miss it!
The entire fight card did not disappoint and had UFC fans at the edge of their seats. Among those present from the DFX staff was CEO Farren Mataele, husband and Warehouse Manager Rodney Mataele, Executive Assistant Rose Merry Blanco, Sales Representatives David Saldana and Cameron Barker, and Sales Manager Tiffany Ludwig. They reported, "The energy was great, and we were all extremely excited and blessed to be there!" The DFX team also mentioned that they were very pleased with the results and shared some of their favorite bouts of the night.
With Urijah Faber vs. Ivan Menjivar, the fight could have gone either way in the beginning but Faber kept landing big elbows and latched onto Menjivar as he stood up with a rear naked choke forcing Menjivar to tap.
At the bottom of the card was Josh Koscheck vs. Robbie Lawler. Twenty seconds into the first round Lawler hit the ground, and got back up just to be brought back down with a front headlock. Koscheck later went for another takedown, failed, and then Lawler landed a big left hit and finished with a knock out. This got the crowd riled up right away!
Both riding losing streaks, Court McGee and Josh Neer had a lot to prove in their bout. This was a very exciting fight from the get go with McGee and Neer repeatedly exchanging hands and kicks. McGee took the lead with jabs and punches and laid hammers all over Neers face. The bell saved Neer in the first round and Neer took over the second but McGee overall dominated and won by unanimous decision.
Then, reluctant to initiate at first, both Lyoto Machida and Dan Henderson stayed tentative through round 2. Eventually, Machida landed kicks and threw strikes enough to defeat Henderson via split decision.
Last but certainly not least, the fight everyone had been waiting for, Ronda Rousey vs. Liz Carmouche. With Rousey defending her title and Carmouche a fierce competitor the energy was high, as were the steaks. This fight was by far the most reactive right off the bat and Rousey and Carmouche went at each other like caged animals. Then, Carmouche took us all by surprise almost choking out Rousey but Rousey shook her off and kept her on the ground. After she delivered several hits to the face Rousey got hold of Carmouche's arm and forced her to tap out with her signature arm bar move. It was quite the win and fans seemed to love it.