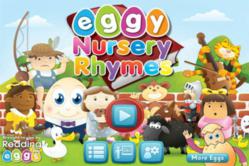 Eggy Nursery Rhymes app features 10 classic nursery rhymes
New York, NY (PRWEB) February 27, 2013
Reading Eggs has just launched its new Eggy Nursery Rhymes app for the iPhone and iPad! This exciting new app brings 10 classic nursery rhymes to life for children ages 3+, with five highly interactive games that teach the essential and core literacy skills.
Eggy Nursery Rhymes has been designed to appeal to the natural curiosity of young learners. Its highly enjoyable activities utilize the 'tap' and 'touch and drag' interactivity of the iPhone and iPad. The app features 10 classic nursery rhymes, including 'Baa Baa Black Sheep', 'Twinkle Twinkle Little Star', 'Incy Wincy Spider', and 'Hey Diddle Diddle'.
Each nursery rhyme features five literacy games, including the unique 'Sing Along' that allows children to sing along with their favorite nursery rhymes – karaoke style! 'Make Your Own' allows them to create their own animation to accompany the song, where they must touch and drag picture props onto the screen. The three word games emphasize touch interactivity and develop core literacy skills including rhyme, phonics, word recognition, and spelling.
With 50 activities in total, the app also includes a range of motivational rewards that children earn when successfully completing activities.
Eggy Nursery Rhymes is available to download from iTunes for $2.99.
About Reading Eggs
Developed by educators with over 25 years' experience, Reading Eggs online lessons instruct children in the five areas crucial to literacy development – phonemic awareness, phonics, vocabulary, fluency and comprehension. Reading Eggs focuses on a core reading curriculum of skills and strategies essential for sustained reading success and is suitable for children aged 3 through 13. Since launching in the United States and Canada in 2011, Reading Eggs has signed on more than 500,000 subscribers and presented more than 15 million lessons in North America. More information at ReadingEggs.com.