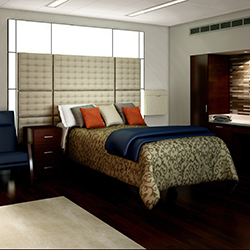 "Our designs are more reflective of a high-end hotel than a typical hospital, with a grand lobby and high end finishes that create a luxury experience," said Sean Kirton, project designer for BOKA Powell.
San Antonio, Texas (PRWEB) February 27, 2013
BOKA Powell, a Dallas-based architecture and design firm, has completed master planning and design work on the first phase of the Forest Park Medical Center San Antonio, a specialty surgical hospital and medical office building slated to open next year. Inspired by five-star resorts, the $95 million physician-owned medical center developed by the Neal Richards Group has a hospitality-oriented focus in its design, patient care and amenity offerings.
The four-story, 150,000-square-foot hospital will have 54 beds -- including 16 VIP patient suites -- 12 operating rooms, two procedure rooms, state-of-the-art diagnostic imaging suites, and in-house pharmacy services. The upscale ambiance throughout extends to the large dining facility offering chef-prepared foods, a coffee bar, and peaceful outdoor spaces, including self-sustaining green roof systems.
"Our designs are more reflective of a high-end hotel than a typical hospital, with a grand lobby and high end finishes," said Sean Kirton, project designer for BOKA Powell. "Rich woods, metals, stone and glass throughout patient rooms and public areas create an immersive luxury experience."
Patient rooms are designed for maximum comfort, and include couches that convert to queen-size beds for guests. Bathrooms are located directly behind the patient's bed to reduce the risk of injury due to falls. Medical support technology including patient monitoring devices and intravenous connection systems are integrated into an attractive upholstered headboard and hidden when not in use. For additional privacy, VIP suites feature a separate room for family and guests equipped with a kitchenette, entertainment options and a sleeping area.
"Our design reflects the South Texas vernacular, where the building is broken down into scalable pieces and has a more simplified structure as it rises to the sky," said Don Powell, principal of BOKA Powell. "Interesting, locally-sourced materials bring the rugged, natural Hill Country palette into the site, rooting the building into the landscape while emphasizing a refined, sophisticated style."
BOKA Powell also designed the Forest Park Medical Center campus in Frisco, Texas, which opened in 2012 and is widely acclaimed for its atmosphere and service quality. "The patient experience at Forest Park Medical Center is second to none," said Powell. "There's a very high morale among the staff and physicians love to practice there. The concept of a hospitality-based hospital will be expanded and elevated in San Antonio."
BOKA Powell served as design architect for the Forest Park Medical Center San Antonio, located at 5510 Presidio Parkway, working with the owner and developer, Neal Richards Group. Other project team members include Vibrant Healthcare, operator, and Rogers-O'Brien, general contractor.
About BOKA Powell
BOKA Powell is a nationally recognized architectural design, planning and interior design firm, with office locations in Dallas, Fort Worth and Austin, TX. BOKA Powell's areas of focus include health care, hospitality, commercial office, higher education, multi-family and mixed use planning and design. Other recent BOKA Powell health care projects include the Texas A&M Health Science Center in Bryan, the JPS Health Network in Ft. Worth and the Methodist Hospital for Surgery in Addison. http://www.bokapowell.com.
About Neal Richards Group
The Neal Richards Group is a client-focused real estate development firm that provides highly integrated and experienced project management services; strategic development and management consulting; and real estate investment services for corporations, builders, investors and individuals. http://www.nealrichardsgroup.com