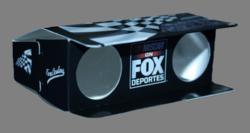 FanOculars fits a niche that many of our clients are looking for...... FanOculars excel because they are very compact yet offer a ton of imprinting space....
Jupiter, Florida (PRWEB) February 27, 2013
FanOculars, LLC has announced new sales orders from a number of prominent NASCAR related properties since the start of the year. These new sales orders show the strong interest and demand within the motorsports market. In addition to three formal orders, FanOculars, LLC has designed and proposed orders for six (6) additional NASCAR properties over the past 90 days.
FOX Sports, who owns the television rights to NASCAR, and Quicken Loans, sponsor for the #39 Ryan Newman car, were two such entities that placed formal orders for the FanOculars in February. Both properties intend on using the FanOculars for promotional and marketing activities within NASCAR events.
"Motorsports is the perfect market for the FanOculars brand as fans love images of drivers, cars and other NASCAR related trademarks. Sponsors get a great opportunity to co brand their business with the associated teams and venues, creating an ideal promotional product", said David Ballou, President of FanOculars, LLC.
FanOculars are portable, custom designed binoculars, with co branded images of sports players, teams or other trademarks printed directly on the product. These full color images help turn an ordinary pair of binoculars into a must have collectable item.
FanOculars continued to be sold through an expansive network of promotional agencies and marketing companies. Once such company, In Stadium Promotions (A division of The Promotions Dept.) recently placed an order for FOX Sports and NASCAR. In Stadium Promotions President John Tulchin added, "FanOculars fits a niche that many of our sports clients are looking for. Teams and venues have a need for lower priced, practical items that are unique to the market. FanOculars excels because they are very compact yet offer a ton of imprinting space, ideal for co branding sports images with corporate sponsor logos". In Stadium Promotions specializes in sports premiums and promotional items for teams and venues.
The recent NASCAR orders add to an impressive list of clients for the still relatively new FanOculars brand. Other clients have included: Boston Red Sox, Miami Marlins, NY Jets, Jacksonville Jaguars, ESPN, Ryan Newman (NASCAR) to name a few.
For more information on FanOculars, please visit http://www.FanOculars.com
For more information on In Stadium Promotions, visit http://www.InStadiumPromotions.com
About FanOculars, LLC
FanOculars, LLC is the production, distribution and marketing company for the FanOculars brand. The company currently has a number of prominent licenses and continues to seek additional strategic partners to enhance the brand and advance the business objectives. By creating customized images directly on the FanOculars, an ordinary pair of binoculars becomes an instant fan favorite item. FanOculars, LLC is privately held company located in Jupiter, Florida.