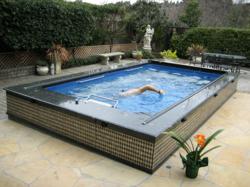 Our pools are perfect for triathlon training.
(PRWEB) February 27, 2013
Endless Pools will attend the 3-day Sandown Triathlon show for the 10th year, and plans to feature a pair of Performance Model Endless Pools at the Zoggs Swim Zone.
Total Immersion Founder, Terry Laughlin, who utilizes an Endless Pool for his revolutionary swim technique training, will present a seminar during the show and will be available for swim coaching in the Endless Pools after each presentation.
Other top swimmers and coaches, including Rick Kittle from NOCA and Tracey Baumann from Total Immersion UK will demonstrate swim technique and stroke efficiency live in the Endless Pool. In addition, those who wish to hop in the pool can bring their own suit for a wet test.
The company will be among 140 fellow exhibitors, and is excited to return for another promising event.
"We always enjoy our time here at the UK Triathlon Show," said head of UK Sales John Lee. "Our pools are perfect for triathlon training and exactly what many competitors need to take their swim technique to the next level and lower their times."
With a fully adjustable current that can be set at a top speed of 1:11 per 100 metres, the Performance Endless Pool offers triathletes the convenience of being able to simulate an open water swim in the comfort of their own back garden.
In fact, Britain's own Alistair Brownlee trained in an Endless Pool after tearing his Achilles just 6 months prior to the 2012 London Olympics.
Brownlee's results couldn't have been more successful, as the British star returned to full strength and secured Gold in front of thousands of hometown fans.
For those learning how to swim to established swimmers, to premier athletes, the Endless Pool offers versatility. Triathletes can benefit from an online swimming calculator in order to track their progress and performance.
The Endless Pool isn't just for serious training, children of all ages love playing in the river like current. For family fun, relaxation and exercise, as well as hardcore triathletes, nothing outpaces an Endless Pool.
Stop by and visit Endless Pools at stand B62 at the Zoggs Swim Zone.
ABOUT ENDLESS POOLS:
Endless Pools, established in 1988, has served over 20,000 customers in over 80 countries, and offers compact, customizable pools for indoor or outdoor use. With a series of six innovative products and an adjustable, revolutionary swim current, the product can be tailored for exercise, competitive training, or family fun. Rigorously tested for safety, low-maintenance and environmentally friendly, Endless Pools has a product to meet virtually any need.
For more information, visit http://www.endlesspools.com or contact Rob Shaeffer at 610-497-8676.
ABOUT THE TRIATHLON SHOW AT SANDOWN PARK:
This year's Triathlon Show at Sandown Park is a must-attend event for all triathletes and those inspired to start by your Team GB heroes. Whether you are planning your first sprint or moving up to Ironman, there is plenty to do and see. We're planning a packed schedule of seminars and events, including a 10km run, Swim Zone, Indoor Cycle Competition and more. If you're looking for new kit or after training and nutrition advice, there's something for everyone with exhibits from top triathlon brands and retailers.
For more information, visit http://www.triathlonshow.co.uk/