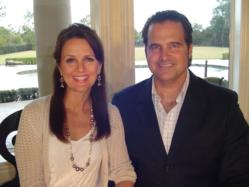 It is such a blessing to minister to orphans! KC and Monica Craichy
Orlando, Florida (PRWEB) February 26, 2013
The idea for kite boarding 50 miles from Miami to the Florida Keys in March started as a family mission trip to Guatemala. Mark Russell and his family were touched deeply by what they experienced in Guatemala and were motivated to do even more.
"My family realized we could no longer sit on the comfortable sidelines of life. We needed to make an impact, one child at a time," Russell said. "We set a course to chart a new path that would aide in bringing the necessities of life to children like these. As an extreme sportsman, I was always able to ride to Live, but now I was being called to ride to Give." (Mark Russell, Freeride836 President)
Russell's goal is to raise $50,000 to build a self-sustaining home in Tanzania, Africa for 12 orphaned children. The target date for the first FreeRide836 event is a 5-weekend window between March 1st and March 31st of this year.
KC and Monica Craichy, Founders of Living Fuel, The Leader in Superfood Nutrition, are very pleased to be title sponsors for the event.
"Monica and I have been friends with FreeRide836 founders Mark and Tracey Russell for years," Living Fuel CEO KC Craichy said. "When they told us about the event, where kite surfers from all walks of life would come together and ride 50 miles for the kids, we could not wait to sign up as the title sponsor. It is such a wonderful and unusual event to raise awareness about the plight of orphans and to help raise the life-saving capital needed to put a roof over these precious little ones heads and food on their tables. It is such a blessing to minister to orphans!"
100% of the funds raised will build the first home of a self-sustaining orphanage in Tanzania which will care for parentless, homeless children in a family style atmosphere. Mark Russell, his sons, and his team are seeking individual and corporate sponsorships to raise more than $50,000. A $15.00 contribution will purchase one square foot of the home. Donations can be made through their website at http://www.freeride836.com. All proceeds will go directly to Orphan's Heart, a tax deductible 501(C)(3) organization. "This will not only be an exciting ride, but a ride with a purpose. One with life changes at the core of its motivation," said Mark Russell.
About Freeride836
Powered by Living Fuel, The Leader in Superfood Nutrition, the first annual Freeride836 kite boarding fundraiser is an outpouring of concern, commitment, and a little obsession to ride, live, and give to others. The date for the first annual event is a 5-weekend wind window between Mar. 1, and March 31, 2013, targeting a launch from Crandon Park on Key Biscayne. All funds raised will go directly to Orphan's Heart, a 501(C)(3) organization that feeds, clothes, and shelters children worldwide. For more information visit: http://www.freeride836.com or http://www.facebook.com/freeride836.
About KC and Monica Craichy
KC Craichy is the bestselling author of Super Health: 7 Golden Keys to Unlock Lifelong Vitality and The Super Health Diet: The Last Diet You Will Ever Need! KC Is also the Founder and CEO of Living Fuel, Inc.—The Leader in Superfood Nutrition. He is a health advocate, researcher, and recognized expert on natural health and performance nutrition. His extensive study of leading-edge health research and collaborative work with top medical and nutritional practitioners and researchers to solve his wife Monica's health problems—anxiety, depression, and suicidal thoughts—along with the grace of God, led him to the answers for Monica's healing and to the founding of Living Fuel, Inc. As a result of overcoming this health crisis, KC and Monica have helped numerous people become overcomers in their own health situations. Together they are now cohosts of the popular Internet TV program called Living Fuel TV.
KC is committed to changing lives through multimedia, super health lifestyle education combined with super healthy, high impact superfoods. He also serves on the Nutrition Advisory Board for Titleist Performance Institute as well as on the Clinical Nutrition Review Board (the certifying body of the International and American Association of Clinical Nutrition). A frequent natural health and performance nutrition guest on various TV and radio programs as well as a frequent contributor to national magazines and blogs, KC lives in Orlando, Florida, with his wife, Monica, and their five children.