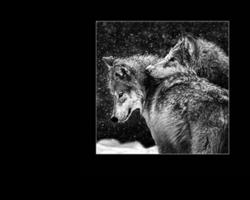 (PRWEB) February 28, 2013
This image was created by Master, Craftsman photographer Jim Wyant on one of his western trips to satisfy the urge to connect with the wilderness in a spiritual way.
"Soul Mates" connects the viewer to the wolves spiritually. Complex, yet simple. Intimate, but open in a very genuine manner. To simply photograph the wolves is to miss the experience. Jim wanted, no desired, to embrace their presence through a careful study of expressions, movement, and inter-action. The experience itself was sufficient. The drama of life in such a base form, and he and all viewers are better, if not enlightened for the gift of having been there. The captured image brought the experience to a higher level in the sense that he is able to express the moment and share it with those who would take the time to reflect.
The judges of the professional photography competition sponsored by the Professional Photographers of America (PPA) connected with the print and awarded it as one of the top three photographs in the unclassified division in the international competition titled the Grand Imaging Division.
PPA is the largest international professional photography association in the country and has been hosting a photography convention since 1880. With over 25,000 members PPA continues to look for new ways to assist its members through protection, education and resources for their continued success in the industry.
Imaging USA is the longest running annual convention, trade show and professional print competition for photographers. Attended by thousands of professional photographers and industry experts across the globe. Imaging USA combines education, networking and trade show deals to create a place photographers flock to for inspiration and growth.
Jim Wyant of Wyant Photography has a location in Carmel and Zionsville, Indiana. Specializing in portraits for high school seniors, families and individuals, Jim has expanded into scenic art photography and nature photography and has won numerous awards for his photography art over the past few years. Jim is one of the most awarded winning professional photographers in the state of Indiana.
Jim is known for his unique style of capturing true personalities and his ten acre portrait park that includes a creek, pond with a waterfall, several flower gardens, pre civil war barn and a '52 chevy truck. This great portrait park is perfect for couples, family groups, high school seniors and individuals. Wyant Photography will offer a special discount on PR Photos through the month of March. The special will include a studio session, a digital file, retouched on a DVD in color and black and white the regular price is $125 but throughout March it is only $50. To schedule an appointment for a PR photo, family, child, or high school senior session one can call (317)663-4798.