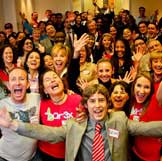 Being a provider of workspace services comes with the responsibility of doing it riight. That is what Your Office Agent do
(PRWEB) February 27, 2013
Executive Suite and Coworking companies are looking to insiders and experts to help navigate through a dynamic market expansion. Given the infancy of the market there is a need for true industry experts who can partner with executives to help them develop their business from concept to sale according to Your Office Agent CEO Brian MacMahon.
Your Office Agent introduces Provider Services, a new division to partner with executive suite and coworking providers. New initiatives directed toward finding suitable merger and or acquisition opportunities and locating new expansion office space while finding the perfect anchor tenant. MacMahon explains "that their company are actively locating office space using both methods for a number of Providers who are expanding their Executive Suite and Coworking office models into new markets throughout the world. A traditional commercial broker just finds space for anyone, without any knowledge of the Executive Suite and Coworking industry or the unique keys to success. In contrast, by partnering with Your Office Agent those keys to success are driven through their Demand Analysis System by:

Validating the local market for Executive Suite and Coworking occupancy.
Projecting local Executive Suite and Coworking potential for inquiries based on a specific space model.
Locating the best few properties that match the provider needs.
Best in class price negotiation..
Further offer value by developing a market specific sales plan.
Assigning personnel to assist in launching the new executive Suite or Coworking business location."
MacMahon also announced the addition of Taylor Hunter as Vice President of Provider Services to the Your Office Agent executive team and the proven experience he brings. Your Office Agent are committed to continued investment in market growth with services, programs and team members to support the new space providers coming to the market and the existing operators who continue to expand. Taylor brings his sales, marketing and corporate/operational experience to Your Office Agent after holding executive vice president and general manager positions within industrial capital equipment markets. A graduate of Pepperdine University Taylor will be a great addition the team of disruptive real estate team who consider themselves to be the best at what they do.