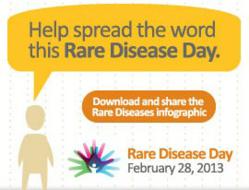 To increase awareness and support Rare Disease Day, Siren Interactive created a rare disease infographic
Oak Park, IL (PRWEB) February 27, 2013
Siren Interactive, a digital relationship marketing agency focused on rare disorder therapies, has created a rare disease infographic in honor of Rare Disease Day. Each year Rare Disease Day is celebrated worldwide on the last day of February. On February 28, 2013, millions of patients and their families will focus a spotlight on rare diseases as an important global public health concern.
The purpose of Rare Disease Day is to spread awareness of rare disorders. For example, many people are unaware that 1 in 10 Americans live with a rare disease. "This year to help increase awareness and to support Rare Disease Day, we developed an infographic on rare diseases," said Wendy White, Siren's founder and president. "This infographic provides a visually interesting way to learn about orphan conditions and an easy way to share this information with others."
World Rare Disease Day was launched by the European Organisation for Rare Diseases (EURORDIS) in Europe five years ago and in 2009 in the U.S. by National Organization for Rare Disorders (NORD). This year marks the 30th anniversary of the Orphan Drug Act, which provides incentives to encourage companies to develop rare disease therapies, and the founding of NORD.
"For 2013 the theme for Rare Disease Day is 'Rare Disorders Without Borders,'" explained White, who serves as a board member for NORD. "Nowhere is this more evident than the online space, where rare disease patients and caregivers provide support for one another." White knows this from firsthand experience. For the first two years of her life White's daughter, Casey, had medical issues but no diagnosis of what was wrong. Despite some of the best doctors in one of the largest cities in America trying to find a diagnosis, it came down to White, doing Google searches. Desperate for knowledge, she was able to locate the information that eventually led to the diagnosis of a rare disease: nail-patella syndrome. Today, Casey is thriving, enjoying sixth grade, and playing the violin.
Unfortunately, this long journey to diagnosis and treatment is way too common. This is why increasing awareness of orphan conditions on Rare Disease Day is so important.