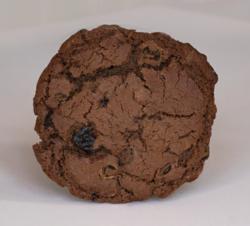 Customers had been asking us for a great-tasting, good-for-you gluten-free cookie and we have delivered with the Cherry Bomb.
Cleveland, OH (PRWEB) February 26, 2013
Functional-cookie company The Cookie Department has partnered with Ganeden Biotech to launch the Cherry Bomb™, its sixth cookie and the first to include the probiotic, GanedenBC30®.
Developed with gluten-free consumers in mind, the Cherry Bomb cookie is made from all-natural ingredients with no preservatives or artificial sweeteners. The Cherry Bomb's flavor and texture are a big advantage over other competitive, gluten-free snack foods. The Cherry Bomb cookie features a soft, brownie-like consistency and because it features GanedenBC30, it provides added support for both digestive and immune health.
"Customers had been asking us for a great-tasting, good-for-you gluten-free cookie and we have delivered with the Cherry Bomb," said Pam Marcus, Co-Founder and Chief Executive Officer of The Cookie Department. "Knowing that people who require a gluten-free diet often suffer from digestive problems, we knew we had to include a probiotic. The choice was easy for us. Only GanedenBC30 could provide the probiotic support we were looking for while surviving our manufacturing process."
The Cookie Department has been grabbing headlines since it burst onto the natural products scene in 2009 when it launched its naturally caffeinated espresso cookie Awaken Baked™. The company has pioneered the concept of functional cookies to meet specific needs such as a protein cookie sold in gyms and health centers for athletes (Tough Cookie™) and even a cookie for overcoming hangovers (Snap Back™).
"When we saw the success of functional beverages like water, we knew there was a market for a functional cookie for consumers who want more of their cookie," said Akiva Resnikoff, Co-founder and Director of Product Development. "We make cookies for people who take care of themselves. They can enjoy our cookies without any guilt."
The new Cherry Bomb cookie is launching at the Natural Products West Expo on March 8 (The Cookie Department, Booth #2996). The three-ounce cookies are packaged individually with a suggested retail price of $2.99. The Cookie Department is taking orders now for the Cherry Bomb cookie and will begin shipping nationally in April.
"The Cookie Department is a pioneer in creative and functional foods and they are in-touch with the demands and desires of their customers," said Mike Bush, Vice President of Business Development for Ganeden Biotech. "We are excited to be working with another business partner who is delivering on the need for more foods and beverages that offer health benefits beyond a great taste."
About GanedenBC30®
GanedenBC30 is a probiotic bacterium. Probiotics are live microorganisms which, when administered in adequate amounts, confer a beneficial health effect on the host. GanedenBC30 is a patented, gram positive, spore-forming, lactic acid producing strain of Bacillus Coagulans. GanedenBC30 (Bacillus coagulans GBI-30, 6086) has received a GRAS no objection letter from the U.S. FDA and it can remain viable through processing, shelf life, and the low pH of stomach acid. Unlike other probiotic strains used in food and beverages, GanedenBC30 is highly stable and has been shown effective in 17 peer reviewed, published papers and it is shelf stable for up to three years.
About The Cookie Department
Founded in 2009, The Cookie Department provides highly calibrated confections to discerning dessert lovers. Starting from simple, all-natural ingredients including organic coffee, our scientists bake creative cookies that are delicious and fully functional. The Cookie Department manufacturers and markets six cookies through specialty groceries, coffee shops, health centers, gyms and specialty retailers nationally. The company is headquartered in Berkeley, California.
###