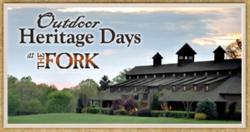 Norwood, NC (PRWEB) February 27, 2013
The Outdoor Heritage Days provide activities that the whole family will enjoy. Come watch some of the top riders in the world as they compete at the world class Fork Horse Trials.
Starting April 4th-7th.
Admission is free.
For more information on The Fork Outdoor Heritage Days, visit http://www.theforkfarm.com
Advertising opportunities:
Advertising in The Fork International Horse Trials program is a great way to reach a large number of people. The program is a full-color, high-gloss publication. Place an ad, hang a banner at the event, or put a web link on The Fork website.
Sponsorhip opportunities:
A variety of levels and types of sponsorship are available.
Volunteer opportunities:
Join in for the exciting Fork International Horse Trials. An event of this magnitude requires many volunteers. Opportunities are available in all three phases: Dressage, Show Jumping, and Cross Country. While experience is valued, it is certainly not necessary.
If interested in volunteering, contact Bill Watson at bill(dot)e(dot)watson(at)gmail(gmail)com.
Ticket information:
General admission to The Outdoor Heritage Days and The Fork International Horse Trials is free. Special events such as the VIP Tent, the Ladies Champagne Luncheon, and the Shoot for the Stars competition are favorites of many. Prices for those events are available at our website.
Shoot for the stars:
This is the 3rd annual Shoot for the Stars clay shooting competition. This popular and fun team competition combines the scores of clay shooters with CIC*** riders. Scores will be combined with CIC*** Riders at the completion of the three days of competition. A team will consist of four shooters and two riders. Cost of team $600. Competition is limited to 20 teams. You can download the registration form here.
For more information on all of the activities and opportunities during The Fork Outdoor Heritage Days visit http://www.theforkfarm.com