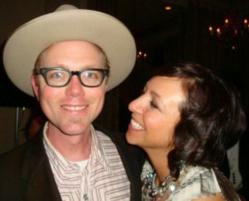 We had no idea that we'd get such a huge response
Grand Rapids, MI (PRWEB) February 28, 2013
Pay It Square – The easiest way to collect money online - announced a new record for most money raised during an online fundraiser on the website. Birdie Krebs, wife of Portland, OR musician Pete Krebs, raised well over $40,000 to break the record.
"We had no idea that we'd get such a huge response" says Birdie, "It seems that Pete is loved a lot here in Portland". Pete Krebs is no stranger in Portland, OR.
Pete Krebs was no stranger to cancer either. Krebs had battled Hodgkin's Lymphoma in his early 20's, but when Pete was diagnosed with Dismoplastic Melanoma, they knew they wouldn't be able to afford the costly surgeries and medical bills. That's when Birdie created a fundraising page on Pay It Square and reached out to the Portland Oregon music community for help. Once local news outlets and local music publications picked up the story, the donations began to pour in. Within 2 weeks, they had collected over $40,000, setting the new Pay It Square record. Birdie was able to manage all of the donations easily with Pay It Square, and didn't have to take much time away from her husband to ensure the fundraiser was running smoothly.
"For the last couple of days we've just been spinning" Birdie commented, "Pete's life situation is enough to deal with at the moment"
The previous record on the Pay It Square website was set by the Morris Family Assistance Fund, a fundraiser organized by Sarah Larsen to send aid to the Morris Family who experienced a tragic car accident. Donations continue to be made to the Morris Family Fund, which has grown to a sizable $23,000 since it was created in late November.
Pay It Square continues to be the easiest way to collect money online: for fundraisers, events and group payments. The site currently hosts hundreds of online fundraisers, many of which see successes when engaging through local communities who are involved with the fundraiser. The best way to accomplish this, says Pay It Square, is through their "Fundraise on Facebook" tool, which allows owners of Facebook pages to display their Pay It Square pages on Facebook.
"Every day, we see thousands of users go through a Pay It Square page on Facebook, it just works really well" says Joel Vanderveen, fundraising specialist at Pay It Square. "Fundraisers get huge donations when they meet their communities online, which is usually on Facebook."
About Pay It Square:
Founder Brian Anderson came up with the idea for Pay It Square after many years of playing soccer in different leagues. He realized how much effort it was for the team captains to manage the team's registration every season. In many cases, the team managers or organizers just paid the entire registration fee. Then, they would pester people for weeks to collect all of the money. Often, they were not able to collect everyone's payments and sometimes even lost track of what payments were made; this is where Pay It Square comes into play. It allows organizers to set up a dedicated web page with content about what they are collecting for, amount they need per person and a system to manage those payments.
For more information visit http://www.payitsquare.com, visit them on Facebook or follow them on Twitter @payitsquare.
Visit http://www.PayItSquare.com to learn more about using the site for fundraising.
About OST:
OST (Open Systems Technologies) is an $68 million company with offices in Grand Rapids, and Ann Arbor, Michigan, Minneapolis and London, England. OST has been focused on providing IT infrastructure services and products for over fifteen years; in addition OST offers security services, custom application development services, managed services, and business process services. Since 2003, the company has grown it revenue at a compounded rate of over 30% annually. In 2007, 2008, 2009 2010, 2011, and 2012 OST was recognized in INC. magazine's 5,000's Fastest Growing Private Companies. OST was also listed on CRN's Tech Elite 250 in 2010, 2011, 2012 and 2013 and CRN's FastGrowth100 in 2007, 2008 and 2009 and on the Michigan 50 Companies to Watch in 2009.