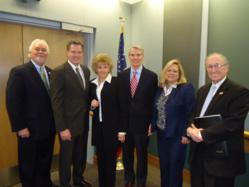 Dayton, OH (PRWEB) February 28, 2013
The Montgomery County, Ohio Ex-Offender Reentry Policy Board and the Montgomery County Office of Ex-Offender Reentry welcomed U.S. Senator Rob Portman and U.S. Congressman Mike Turner to Dayton to discuss benefits available to employers who hire individuals returning to our community from prison.
U.S. District Judge Walter H. Rice and Montgomery County Commissioner Debbie Lieberman, Co-chairs of the Montgomery County Reentry Policy Board, joined Senator Portman, Congressman Turner, Dayton Area Chamber of Commerce President Phil Parker and business owners for a media event held at the Dayton Convention Center.
Montgomery County, on an annual basis, sees approximately 1,700 to 2,000 women and men return to the community from state and federal prisons to every zip code in the county.
Intense teaching and coaching for ex-offenders working to change their lives for the better have shown significant results since the start of Montgomery County's Reentry Program in December 2010. Employment is one of the keys to that success.
"Montgomery County employers who work through the Office of Reentry can hire ex-offenders who have soft skills training and employers are eligible for tax credits and incentives," said County Commissioner Debbie Lieberman. "Work opportunities provide hope and a chance to achieve success for ex-offenders who have made the decision to turn their lives around."
Employers who hire ex-offenders through the MCOER are guaranteed to be matched with individuals who have:

Soft Skill Training
Access to in-prison training and state issued certificates of achievement and employability
A pre-screen drug test
Other incentives that benefit employers:

A Federal Bonding program for ex-felons for up to $5,000.
The Federal Work Opportunity Tax Credit available after the employee works the required number of hours, either full or part time.
Access to a company (WOTC Solutions) that will take responsibility for all required tax credit paperwork and reporting. They charge a fee from the tax credit so the risk to the employer is minimal.
"When ex-offenders partner with community resources to turn their lives around, they have a greatly enhanced chance of avoiding criminal behavior and, in many cases, are able to gain employment, housing and reunification with their family," said U.S. District Court Judge Walter H. Rice.
In 2005, at the beginning of Montgomery County's current effort to reduce recidivism, the county recidivism rate was 44.7%. By the end of 2011, the county recidivism rate had fallen dramatically to 32.2%. The Montgomery County Office of Ex-Offender Reentry is pleased to announce, over the past two years, an overall recidivism rate of 9.3% for all 1,371 clients who are eligible for and participated in specific programming.
The annual cost to incarcerate an individual is about $25,000. The cost to provide an ex-offender with a cognitive based reentry program with proven results is less than $1,000.00 total.
To learn more about the benefits of hiring individuals returning from prison, employers can contact the Montgomery County Office of Ex-Offender Reentry at 937-225-6460.