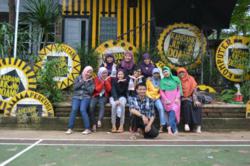 ...working with the Global Autism Project will better equip YCHI to become a better-managed non-profit organization such that more and better services are to be provided for the children…
(PRWEB) February 26, 2013
The Global Autism Project is excited to announce a new partnership with the Yayasan Cinta Harapan Indonesia (YCHI). Founded in 2009 by the current Chairman of the Executive Board, Zulfikar Alimuddin, YCHI aims to help children from underprivileged families affected by Autism Spectrum Disorder (ASD).
The most recent prevalence rates say that 1 in 88 children are diagnosed with some form of ASD. This high number demonstrates the need to increase capabilities around the world for early intervention and use of approved practices to treat these individuals. This is particularly true of under-resourced communities where understanding of ASD is extremely low.
Approaching its tenth anniversary, the Global Autism Project has been working to provide necessary skills to their partners abroad, equipping them with training in Applied Behavioral Analysis (ABA). ABA is the only evidence-based treatment currently in use by those working with ASD. The organization already has strong partnerships in India, Peru, and Kenya and is looking to continue to expand their reach worldwide. Their SkillCorps program gives professionals working with ASD as well as other volunteers the opportunity to travel to their partners' locations and spend a few weeks working directly with the organization and training its staff.
The new partnership with YCHI will incorporate all of these elements. Since their founding, YCHI has grown from working with just 4 to 106 children in 6 different cities throughout Indonesia. They are staffed mostly by volunteers, demonstrating the dedication and passion of all those involved. Zulfikar Alimuddin "strongly [believes] that working with the Global Autism Project will better equip YCHI to become a better-managed non-profit organization such that more and better services are to be provided for the children…and for the working team of YCHI to…grow to reach their dreams." The Global Autism Project will work closely with YCHI staff to build their capacity and increase their effectiveness through learning ABA practices and assisting staff in acquiring status as a Board Certified Behavior Analyst. They also look forward to developing university partnerships and contributing to the ongoing research in the field of ASD. The Global Autism Project will follow this launch with their first SkillCorps trip to Indonesia this July.
The announcement of the new partnership comes on the heels of the recent South Asian Autism Network (SAAN) conference held in New Delhi early this month. The first of its kind, it brought together the leaders of various nations in South and Southeast Asia to discuss how best to increase understanding and availability of resources for individuals affected by ASD in the region. The Global Autism Project's new partnership with YCHI complements the mission expressed at the SAAN conference and will contribute to the region's advancement in this field.